Baylor Bears
Oklahoma vs. Baylor Women's Basketball Preview and Prediction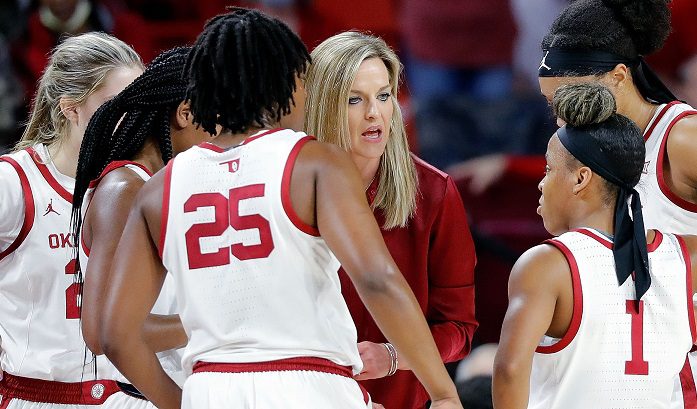 Here is everything you need to know about the Oklahoma Sooners and the Baylor Bears in our Oklahoma Sooners vs. Baylor Bears Big 12 Tournament women's basketball preview.
Game 7: No. 4 Oklahoma (24-7) vs. No. 1 Baylor (26-5), noon CT, Saturday
Season series (Oklahoma 2-0): Oklahoma def. Baylor, 83-77, in Norman, Okla., on Jan. 12; Oklahoma def. Baylor, 78-77, in Waco, Texas, on Feb. 2.
Big 12 Tournament results: Oklahoma: def. Kansas, 80-68; Baylor: def. Oklahoma State, 76-36.
Winner gets: a berth in Saturday's Big 12 Championship Game.
Projected starting lineups
Oklahoma: G Taylor Robertson, F Madi Williams, G Nevaeh Tot, G Kennady Tucker, F Liz Scott.
Baylor: F NaLyssa Smith, G Ja'Mee Asberry, G Jordan Lewis, G Sarah Andrews, C Queen Egbo.
Players to watch
Oklahoma G Taylor Robertson: She's a finalist for the Anne Meyers Drysdale Award, given to the nation's best shooting guard. It's not hard to figure out why. Robertson entered the postseason with 432 made 3-pointers in her career and poured in three more as she scored 19 points against Kansas on Friday. She's now 62 short of the NCAA record. This season she leads the country in 3-pointers with 113 and has the fourth-highest percentage in the country. She is the first player in Big 12 history to post three seasons of 100-plus 3-pointers. Just imagine if she decides to use her COVID-19 season? Robertson was selected to the All-Big 12 team by the coaches and by Heartland College Sports.
Baylor G Jordan Lewis: Yes, NaLyssa Smith was the Heartland College Sports Big 12 Player of the Year. But, Lewis, the Alabama transfer, makes sure Smith and the rest of the Bears look good. Lewis was named the Big 12 Newcomer of the Year and to the All-Big 12 First Team. She became the third Bear in history to record a triple-double and finished the season averaging 11.8 points and 5.3 assists. She's a sneaky threat from the 3-point line at 38 percent and she's a plus defender. She's been one of the best pick-ups on the transfer market for any Division I school this season. For a Baylor squad with a short rotation, she means everything.  
Key storylines
Oklahoma: The Sooners had their pass-and-shoot game working against Kansas, despite falling behind by 10 points in the first quarter. The Sooners had an assist on 25 of their 30 made field goals. Madi Williams had her ninth double-double of the season and the Sooners had nine different players score. Head coach Jennie Baranczyk has now increased OU's win total by 12 games from last year. Oklahoma is still considered a Top 4 seed in the NCAA Tournament by ESPN, a seeding that would allow them to host first- and second-round games. But, now, the Sooners must do what is so difficult to do in a conference like this — beat the same team three times. It's even more difficult when it's Baylor.
Baylor: Baylor's win over Oklahoma State showed just how far it has come since starting the Big 12 slate with an 0-2 record. The Bears shut Oklahoma State out in the first quarter, grabbed a 23-point lead and never looked back. The Bears have now won 14 straight games, and the coaching job that first-year boss Nicki Collen has done has been terrific. The Bears overcame a bout with COVID-19, an 0-2 start and are now humming at the right time. Yes, they still have that short rotation, but Friday's game gave Collen the chance to manage it a bit to have the Bears prepared for Oklahoma, which has been Baylor's kryptonite this season. The Sooners caught the Bears right after the COVID pause, and then went to Waco and straight up stole one on a Liz Scott game-winning layup. That was Baylor's last loss. Think the Bears aren't ready for this?
Fun Fact
Baylor and Oklahoma are No. 1 and No. 2 in Big 12 Tournament titles. The Bears have 11 and the Sooners have four. But, while Baylor is the defending champion, Oklahoma hasn't won one since 2007.
Prediction
Baylor 78, Oklahoma 76. Expect points. Lots of points. It might be the best game you see all day in Kansas City on Saturday.
You can find Matthew Postins on Twitter @PostinsPostcard.