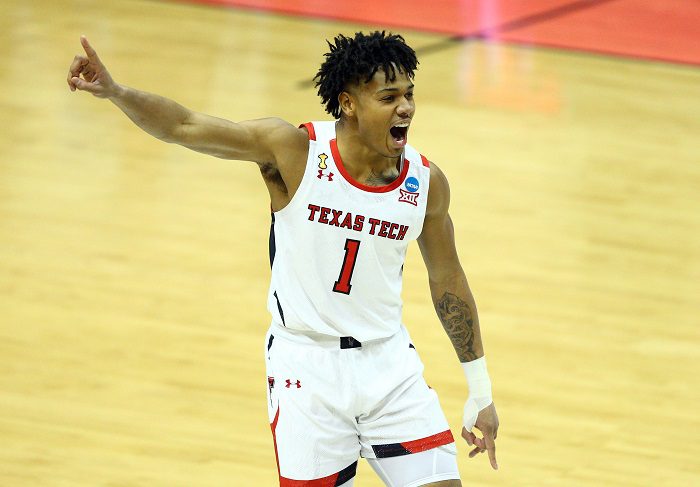 Here is everything you need to know about the Oklahoma Sooners and the Texas Tech Red Raiders in our Oklahoma vs. Texas Tech Big 12 Tournament men's basketball preview.
Game 7: No. 7 Oklahoma (18-14) vs. No. 3 Texas Tech (24-8), 8:30 p.m. (or 30 minutes following Game 6)
Season series (tied 1-1): Oklahoma def. Texas Tech, 70-55, in Norman, Okla., on Feb. 9; Texas Tech def. Oklahoma, 66-42, in Lubbock, Texas, on Feb. 22.
Big 12 Tournament results: Oklahoma: def. No. 2 Baylor, 72-67. Texas Tech: def. No. 6 Iowa State, 72-41.
Winner gets: a berth in Saturday's Big 12 Championship Game.
Projected starting lineups
Texas Tech: F Kevin Obanor, F Bryson Williams, G Adonis Arms, G/F Terrence Shannon Jr., G Davion Warren
Oklahoma: G Umjoa Gibson, F Tanner Groves, G Jordan Goldwire, F Jalen Hill, F Jacob Groves.
Players to watch
Texas Tech F Bryson Williams: He earned selection to the Heartland College Sports All-Big 12 First Team and the All-Big 12 Coaches First Team after emerging as the Red Raiders' leading scorer. Williams averaged 14 points and 4.3 rebounds as he took advantage of Terrence Shannon Jr.'s month-long absence to become one of the focal points of the Red Raider offense. He also adapted easily to Tech's 'no-middle' defensive scheme. His 33-point performance at Kansas in Tech's double-overtime loss will be talked about for a while. Against Iowa State he didn't have to have a big game, but he still had six points and five rebounds, and he's more than capable of a double-double against the Sooners.
Oklahoma G Umoja Gibson: No one was happier to see Gibson drive to the basket, as opposed to stepping back and taking a 3-pointer, than head coach Porter Moser. He's been urging Gibson to go to the hole more, and late in the victory over Baylor that's what he did. The emotion was palpable after that last drive to the basket, which resulted in a 3-point play. Gibson strode to the Oklahoma pep band and celebrated with them. He finished with 15 points in that game. Meanwhile, Moser is envisioning a 2022-23 season with Gibson in the lineup, should the senior choose to use his COVID-19 season.   
Key storylines
Texas Tech: Texas Tech head coach Mark Adams said his team's win over Iowa State was probably as close to the best the Red Raiders have played all year. The Red Raiders were never threatened by the Cyclones on Thursday night, and Adams is hoping that carries over into Friday's game. But the Red Raiders are continuing their great season under Adams. Texas Tech went 5-1 against the conference's Top 4 teams — including a sweep of Texas — and Adams earned the Heartland College Sports Coach of the Year Award. As the season evolved, the Red Raiders ended up with a half-dozen players that averaged at least eight points per game, and a defense that is hard to goad into mismatches. Even better news is that Kevin McCullar is back and had a great game against Iowa State.
Oklahoma: Many thought the Sooners were dead after they lost Elijah Harkless for the season on Feb. 18. In fact, after two more losses, the Sooners were 14-14 and off the NCAA Tournament bubble. But, since then the Sooners have won four straight, just another part of their up-and-down season under Moser. At one point the Sooners were a 'safe' bracketology team. Then came the reality of the Big 12. From Jan. 11 to Feb. 22, the Sooners won just two games, one of which was a nice upset of Texas Tech in Norman. The Sooners have their backs against the wall when it comes to the NCAA Tournament, and they know it. Some say OU needs one more win. Moser seems focused on winning the Big 12 Tournament, just to make sure.
Fun Fact
Texas Tech head coach Mark Adams called his loss to Oklahoma in early February a "whipping" on Thursday night.
Prediction
Texas Tech 72, Oklahoma 65. The Red Raiders looked like the better offensive team between the two on Thursday night. And I'm certain they're the better defensive team. But, watch out if Gibson's 3-point shot really gets going.
You can find Matthew Postins on Twitter @PostinsPostcard.