Baylor Bears
Baylor vs. Texas Women's Basketball Preview and Prediction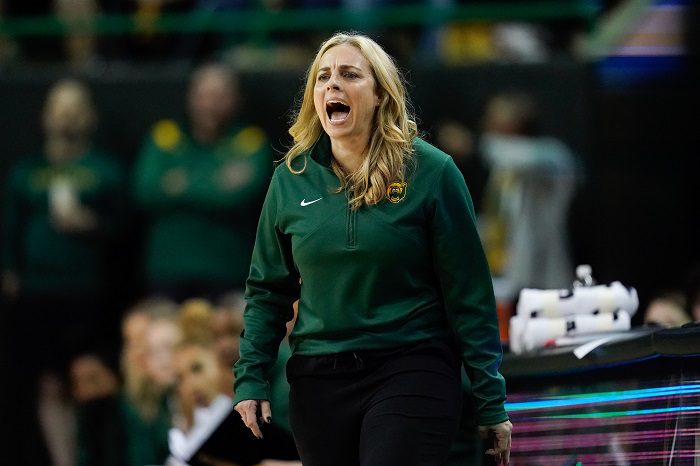 Here is everything you need to know about the Baylor Bears and the Texas Longhorns in our Baylor vs. Texas Big 12 Tournament women's basketball preview.
Championship: No. 1 Baylor (27-5) vs. No. 3 Texas (25-6) 1 p.m. CT
Season series (Baylor 2-0): Baylor def. Texas, 75-63, in Waco, Texas, on Feb. 4; Baylor def. Texas, 63-55, in Austin, Texas, on Feb. 6.
Big 12 Tournament results: Baylor: def. Oklahoma State, 76-36 (quarterfinal); def. Oklahoma, 91-76 (semifinal); Texas: def. Kansas State, 72-65 (quarterfinal); def. Iowa State, 82-73, OT (semifinal).
Winner gets: The Big 12's automatic berth into the NCAA Tournament.
Projected starting lineups
Baylor: F NaLyssa Smith, G Ja'Mee Asberry, G Jordan Lewis, G Sarah Andrews, C Queen Egbo.
Texas: G Rori Harmon, G Shay Holle, G Joanne Allen-Taylor, F DeYona Gaston, F Lauren Ebo.
Players to watch
Baylor F NaLyssa Smith: How many times do we need to explain to you how good she is? If you watched Saturday's win over Oklahoma, then you know. She had 37 points and 11 rebounds in the game, as she made sure that the Sooners didn't beat the Bears for a third time this season. She's playing her best basketball of the season, and in truth, she's been doing that since early February when the Bears swept Texas in three days. She was the Heartland College Sports Big 12 Player of the Year and is the defending Wade Trophy winner, which is given to women's college basketball's best player. She led the Bears with 22.3 points and 11.7 rebounds going into the Big 12 Tournament, and she just keeps adding to it. She's playing like she wants to make a long run in the NCAA Tournament this year.
Texas G Rori Harmon: Harmon went off in the semifinal game with 30 points, four assists and a steal, as her two 3-pointers to start overtime set the tone for the final five minutes against Iowa State. What was interesting was the balance she had in that game. She scored 15 of her 30 points by halftime and spent most of the second half working to get others involved, especially Lauren Ebo and DeYona Gaston. But when it mattered, she hit the shots. Harmon has had a command for the offense the entire season. But, in the past few weeks, she's exhibited a command for her individual game. She's driving to the basket more, shoots more confidently and draws more fouls. She was the All-Big 12 Freshman of the Year for a reason. She was also on our Heartland College Sports All-Big 12 team, too.
Key storylines
Baylor: Baylor wanted redemption and got it by beating Oklahoma. But that game was more than Smith's dominance. Caitlin Bickle came in and scored a whopping 21 points, giving Bears fans a preview of what they could see next season (Bickle has already announced she's coming back). Queen Egbo had 11 points on Saturday. It was the front line that led Baylor and the guards were able to supplement their scoring nicely. And when those things happen, Baylor can run head coach Nicki Collen's offense most effectively. They've come a long way since starting the Big 12 slate with an 0-2 record. The Bears have now won 12 straight games and they're firing on every cylinder, despite being able to only play seven. Now, the Bears turn their attention to defending their Big 12 Tournament title.
Texas: The Longhorns have won 10 games in a row. And they know when that streak started — right after their back-to-back losses to Baylor. Head coach Vic Schaefer made lineup changes, put more of the offense in Harmon's hands and Texas has delivered. Unlike Baylor, it's been a long time since the Longhorns won a Big 12 Tournament title — 2003 to be precise. For the past two days, Texas has been the hunted, so to speak. It played two teams in Kansas State and Iowa State that it beat twice in the regular season. Now, Texas can play the role of pursuer with Baylor, the team that swept it last month. Baylor may have NaLyssa Smith and Queen Egbo, but don't underestimate Lauren Ebo and DeYona Gaston inside, who have done a great job passing to each other the past two games.
Fun Fact
Baylor is 3-0 against Texas in the Big 12 Tournament championship game.
Prediction
Baylor 81, Texas 74. Texas can defend Baylor. But the Longhorns have to elevate their offensive game. Texas can get there, but can they keep Smith from being the most dominant player on the floor?
You can find Matthew Postins on Twitter @PostinsPostcard.