Big 12 News
Christian Braun After Big 12 Tournament Win: 'We've Got Six Games Left'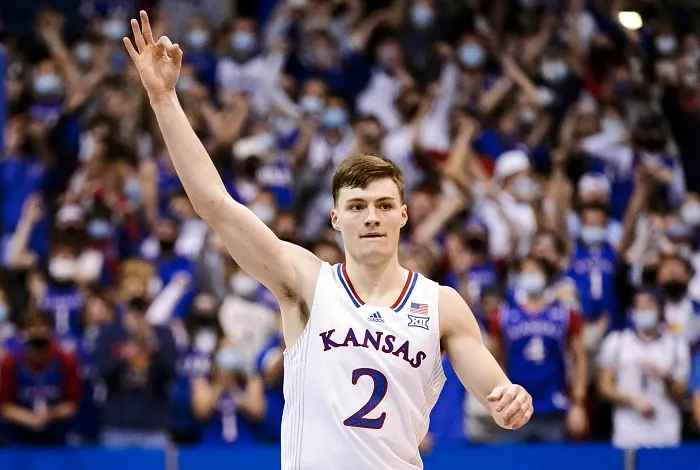 The Kansas Jayhawks won their 12th Big 12 Tournament Title and their first since 2018, but guard Christian Braun doesn't want Saturday night to be the highlight of the season.
After the win, Braun, who scored 14 points, said this team isn't done yet.
In the post-game press conference, Braun said, "Right after we got in the locker room, we said, 'We've got six games left.'"
For those who may be new to this whole NCAA Tournament thing, a team needs to to win six games (or seven, if you have a play-in game) to become National Champions.
And clearly Braun feels like this team is gelling at the right time, and you can't blame him based on how this team has played lately. Starting with big man David McCormack, who was uncertain to even play in the Big 12 Tournament, ended up playing in all three games, including a team-high 18 points and 11 rebounds on the Championship Game.
In February, Self said that McCormack would not be 100 percent the rest of the season. That was the result of a broken bone McCormack had surgery for last year. He bounced back a little bit after that declaration, but then reaggravated it down the stretch of the season.
However, McCormack's performance on Saturday gives plenty of reason for more hope and optimism from Kansas entering March Madness.
Then, there's Remy Martin, the Big 12 Preseason Player of the Year, who did not live up to the hype this season, averaging less than eight points per game after leading the Pac-12 in scoring last season at Arizona State.
Well on Friday and Saturday, Martin played his two best back-to-back games in well over two months, and also declared his knee as being 100%.
Martin had 10 points against TCU on Friday, his highest output since scoring 15 back in mid-December against Stephen F. Austin. After the game, he sounded more like a scrappy veteran just trying to contribute rather than a guy who is a year removed from leading a Power 5 Conference in scoring.
"I felt great just being out there, doing anything I can to contribute to the win. Every time I try to go out there I try to give my best. I'm here to win a national championship. I'm here to win a tournament. So anything I do to help the team I'm fully invested in," Martin added.
Then in the Championship Game on Saturday, with the game tied at 27 with four minutes remaining in the first half, Martin would go on to score the final 10 points of the half for KU as the Jayhawks took a 37-36 lead into the locker room. Martin played 26 minutes, his most since January 4th against Oklahoma State, and finished the game with 12 points.
In the Title game, there were five KU players who scored in double figures, with Ochai Agbaji (15 points), Christian Braun (14) and Jalen Wilson (12) joining McCormack and Martin.
For the last several weeks, Bill Self has been trying to figure out his rotation, who is healthy, and who he could rely on.
And for the last three days in Kansas City, he might have just found that answer, which is creating confidence up and down the entire roster starting with Christian Braun.