Big 12 Basketball
Mark Adams Says Texas Tech 'Isn't Finished Yet' After Loss to Kansas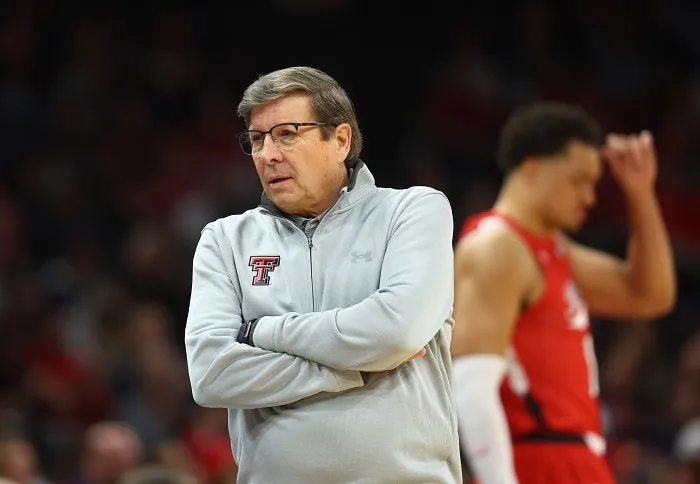 KANSAS CITY, Mo. — The Big 12 Championship game is a long way from Edinburg, Texas, if you're Texas Tech head coach Mark Adams.
Edinburg is where UT-Pan American used to be. The school merged with UT-Brownsville to become UT-Rio Grande Valley a few years ago. Dig into UTRGV's media guide and you'll find all of that information.
It's important because, up until this season, it was the only place Adams had been a head coach in Division I.
It did not go well. He led UTPA for five seasons, from 1992-97 and won just 44 games.
Texas Tech has 25 wins this season, in spite of Saturday's loss to Kansas in the Big 12 Tournament championship game.
At some point, one might have thought Adams would have gotten another chance.
It took nearly a quarter-century and Chris Beard leaving for Texas for Adams to finally get another shot, at his alma mater, no less.
And, even with Saturday's loss, the journey was worth it.
"I love this team," Adams said. "It's a great experience. I love the game and they have a passion for it like these two guys (Bryson Williams and Marcus Santos-Silva) do. Maybe this level is, maybe, a little more stress and a few more people notice and care a little bit more about it, but it's still basketball."
A win on Saturday would have been the cherry on top of Adams getting his own dream job last year. He took over a team that needed nine new players. He had to re-recruit players like Santos-Silva, Kevin McCullar and Terrence Shannon Jr. (and in many ways that was probably the easiest part). He had to cobble together a disparate group of players, most of which hadn't played before, and turn them into a team that could complete in the Big 12 Conference, the toughest in the nation.
Adams did it by leaning on what he believes in the most — defense. The Red Raiders have been one of the best defensives teams in the nation all season.
"That defense is elite — ELITE," Oklahoma coach Porter Moser said on Friday after the Sooners lost to Texas Tech.
The Red Raiders finished in third place in league play. They nearly won the Big 12 Tournament for the first time. Adams was the Heartland College Sports Coach of the Year. Adams is on every National Coach of the Year watch list.
It worked, in part, because Adams makes it all about coaching, and it doesn't matter if it's at Texas Tech, UTPA or Howard College, where he won a junior college national title.
"When I was in junior college, or NAIA, or Division II or Division I, that's something I enjoy (coaching)," Adams said.
Now, Adams will get to do something he never got to do at UTPA — coach in the NCAA Tournament. The Red Raiders are a lock to get an invitation on Sunday as an at-large team. The Red Raiders could be as high as a No. 3 seed.
If you're looking for a coach that needs the personal validation of such an opportunity, you're looking for the wrong coach. That's not Adams. Even at 65 years old, his personal renaissance is more about what he wants for his players and team, and not what he wants for himself.
He doesn't feel the clock ticking. He just wants to get to the next game.
"We're not finished, I can promise you that," Adams said. "We're not finished."
You can find Matthew Postins on Twitter @PostinsPostcard.