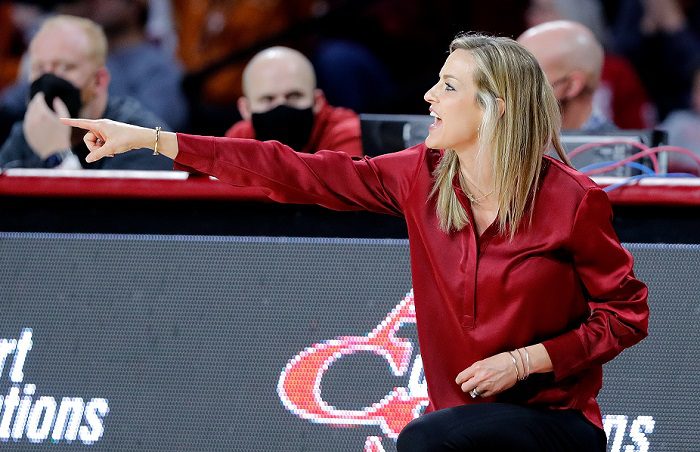 KANSAS CITY, Mo. — Oklahoma's Skylar Vann left Saturday's game with Baylor in the fourth quarter due to a left leg injury and it caused a stir at the end of the Bears' 91-76 victory.
Vann drove to the basket with less than three minutes to play and the Bears in control of the game. During the drive, she made contact with Baylor's Caitlin Bickle, who appeared to be trying to take a charge but wasn't in position.
Vann fell to the floor in pain and the reasons for what happened next were unclear in the moment.
Oklahoma coach Jennie Baranczyk ran onto the floor immediately and through some players to get to Vann. At one point, she asked the players near her to clear out to give her and the trainers space. One of those players she motioned at happened to be Baylor's NaLyssa Smith.
Baranczyk explained what happened after the game.
"You know, honestly, as soon as I saw my kid go down, and we have had that happen this year, I ran out, and I probably did push people out of the way to get to her," Baranzcyk said. "I was not trying to disrespect anybody. I was just trying to get to my kid. That's it."
A couple of minutes later, OU trainers helped Vann to the bench, as she was unable to put any weight on her left leg.
Baranczyk seemed unhappy with what had happened and was looking to the refs for an explanation. During that time, she and Baylor coach Nicki Collen exchanged words. At one point both coaches walked slowly toward each other on the bench area before stopping.
Eventually, the game resumed. But, before that, Bickle ran to the other end of the court and shook Vann's hand.
After the game, Baranczyk and Collen shook hands and spoke for a couple of minutes in the hand shake line, a conversation that appeared explanatory. A moment later, Baranczyk spoke in Smith's ear for another minute and the handshakes continued.
Collen chalked it all up to the heat of the moment.
"Honestly, kid goes down, kid gets hurt, coach is emotional, says some things that she probably maybe even regrets, but certainly was emotional and protective of her own kid, and that's all it was," Collen said.
Vann's status for the NCAA Tournament is unclear due to the injury. She was the Big 12 Sixth Player of the Year and scored five points on Saturday.
"Skylar, we don't know anything yet," Baranczyk said. "We're hoping obviously for the best. I don't think anything will be confirmed until we get back (to Norman)."
The Bears will play in the Big 12 Championship game on Sunday.
This story will be updated.
You can find Matthew Postins on Twitter @PostinsPostcard.