Big 12 News
Kansas Jayhawks Land No. 1 Seed in Midwest Regional of 2022 NCAA Tournament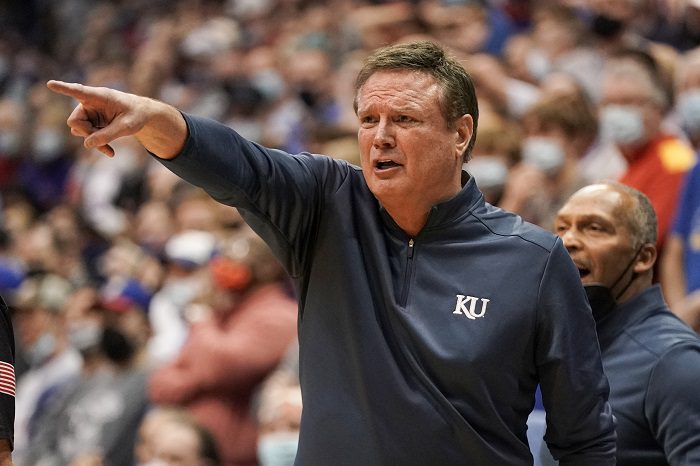 One day after winning the Big 12 Tournament, the Kansas Jayhawks have landed a No. 1 seed in the 2022 NCAA Tournament.
Kansas will play in the Midwest Regional and their first game will be on Thursday, March 17th in Fort Worth, Texas, against No. 16 seed Texas Southern or Texas A&M-CC.
The Jayhawks finished the season with a 28-6 record and co-Champions of the Big 12 title with a 14-4 record, splitting the regular season crown with the Baylor Bears.
After back-to-back losses at Baylor and TCU, the Jayhawks have since ripped off five-straight wins, including three in a row to win the Big 12 Tournament for the first time since 2018.
The Jayhawks are led by Ochai Agbaji, who was just named the Big 12 Tournament MVP and was also named the Big 12 Basketball Player of the Year.
KU is on a bit of a drought by their standards in the NCAA Tournament. KU hasn't gotten out of the first weekend the last two NCAA Tournament appearances. Last season, the Jayhawks beat Eastern Washington in the first round before losing to USC in the second round. In 2019, they beat Northeastern before falling to Auburn.
Of course, the 2020 NCAA Tournament was cancelled due to COVID-19, and Kansas did have the No. 1 team in the country that season.
Kansas' last trip to the Final Four came in 2018, when they lost to the eventual National Champions Villanova in the semifinals. The Jayhawks last reached the National Championship in 2012 when they lost to Kentucky and their last National Title came in 2008.
Overall, Kansas basketball has 50 NCAA Tournament appearances, with 15 Final Fours and three National Championships (1952, 1988 and 2008). Their NCAA Tournament record is 109-48.