Big 12 News
Oklahoma Will Continue Season After NIT Invitation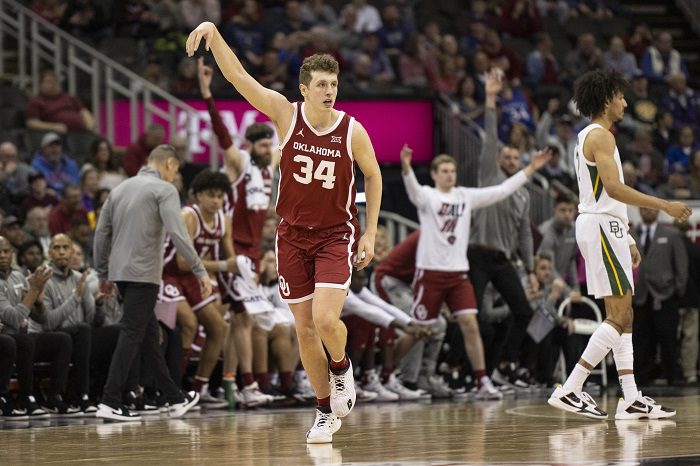 Oklahoma's season will continue, in spite of missing the NCAA Tournament, as the Sooners accepted a bit to the postseason National Invitation Tournament, which starts next week.
The Sooners (18-15) will be a No. 1 seed and will host Missouri State in the first round in the 32-team event, which culminates with a Final Four at Madison Square Garden. That game is set for 6 p.m. Tuesday at the Lloyd Noble Center in Norman, Okla.
The Sooners were the one Big 12 team that was on the NCAA bubble after the Big 12 Tournament. The Sooners did all they could to enhance their credentials for the selection committee, upsetting Baylor in the quarterfinals and nearly beating Texas Tech in the final second in the semifinals.
After the loss, Moser talked about how he felt his Sooners had the "DNA of an NCAA Tournament team."
"The positives are strength of schedule. Our strength of schedule was 4 this morning … I think we had 10 or 11 Quad 1 or 2 wins. We played another top line team, Kansas, twice, to a two-point game in Allen Fieldhouse. This league is like none other. It's every night. You're playing against top level teams and we've competed every night. We've won those games… this group has the DNA of an NCAA Tournament team."
Oklahoma had a NCAA NET rating of 40 on Sunday with 10 Quad 1 or 2 wins, with four of those wins being Quad 1 wins. NCAA Tournament Committee chair Tom Burnett told ESPN that the Sooners didn't have enough Quad 1 wins and they were the second team out.
So, now the Sooners will play in the NIT.
This will be Oklahoma's eighth trip to the NIT, but their first since the 2004 event, where Oklahoma lost to Michigan in the second round. The Sooners have made two deep runs in the NIT. In 1982, Oklahoma beat Oral Roberts, UC Irvine and Dayton to reach the Final Four at Madison Square Garden, where the Sooners fell to Bradley in the semifinals.
The 1991 Sooners did that team one better. Oklahoma beat Tulsa, Cincinnati, Providence and Colorado to reach the NIT championship game, where the Sooners lost to Stanford.
You can find Matthew Postins on Twitter @PostinsPostcard.