Baylor Bears
Baylor Leads Big 12 Women's Basketball Teams With Best Chance to Win NCAA Tournament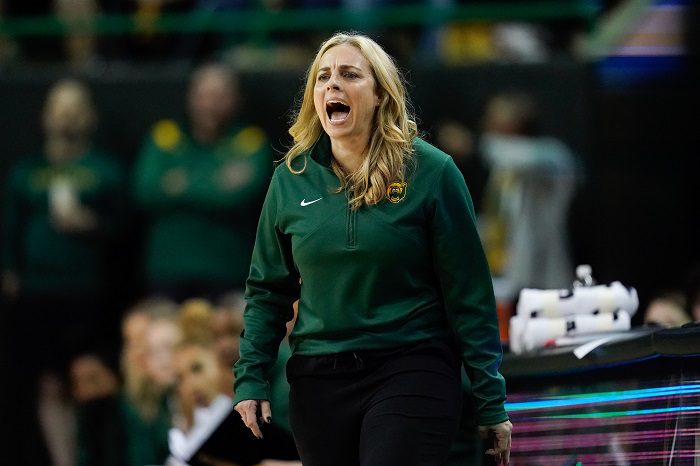 The NCAA Women's Basketball Tournament is set to tip-off on Wednesday and Thursday with the First Four games and then the First Round of the tournament starting on Friday.
After an uber-competitive season in the Big 12 that saw six teams win 19 or more games, there are high expectations for the conference to perform well in the tournament.
Here is a look at the odds for each Big 12 team to win the 2022 NCAA Women's Basketball Tournament, courtesy of BetOnline.ag.
Baylor – 20/1
Texas – 40/1
Iowa State – 50/1
Oklahoma – 125/1
Kansas – 200/1
Kansas State – 200/1
Baylor, who lost in the championship game of the Big 12 tournament, leads the Big 12 with the best odds to cut down the nets in Minneapolis, currently sitting at 20/1.
Not far behind the Lady Bears is Texas, the Big 12 tournament champions, who are listed at 40/1 odds to win it all. Both Baylor and Texas are two-seeds in the tournament and have favorable matchups to begin the tournament.
Iowa State, a three-seed in the Greensboro Region, is the next team from the Big 12 listed on the board at 50/1 odds. Next, a bit further down the list is Oklahoma, who is listed at 125/1 odds to take it home. The Sooners are a four-seed in the Bridgeport Region and face IUPUI in the first round.
Kansas and Kansas State are both listed at 200/1 odds to take home the crown, with K-State being a nine-seed with a potential matchup with NC State in the second round, and Kansas being an eight-seed with Stanford on deck if they can make it through the first round.