Big 12 News
D1Baseball Top 25 Rankings: Texas Drops From No. 1 Spot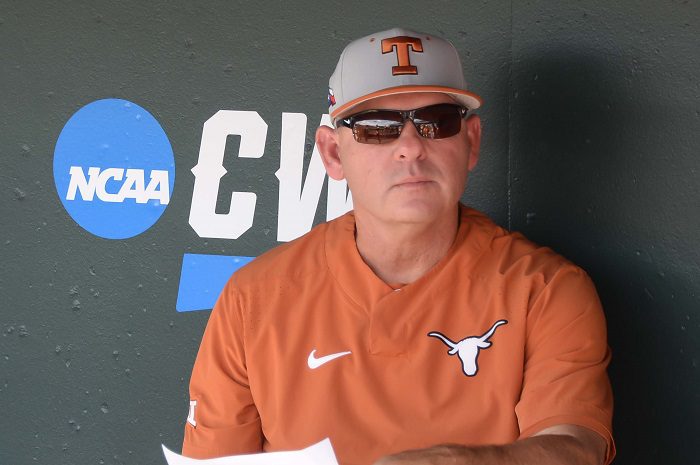 Texas baseball had a bad week, losing four of their last six contests and three of their last four to previously unranked opponents. Distractions are often the root of issues for a team in a slump, especially when that team is as talented as Texas. Well, it is safe to say that last week had plenty of distractions.
The bad news started with RHP Tanner Witt being ruled out for the remainder of the 2022 season with a UCL injury that will require surgery. Then, transfer catcher Preston Hoffart was caught on camera pulling shots from a flask during a game.
You add those things together, along with the Longhorns coming off their first loss of the season to UCLA, and you spell short-term disaster. The Longhorns then lost a game to Texas State and two of three to an unranked South Carolina team.
Now, sitting at 13-4 the Longhorns fell from No. 1 all the way down to No. 2 in this week's Top 25 poll from D1Baseball. Ole Miss has taken the top spot for now, after a 3-1 week and their fourth-straight series win.
Texas isn't the only Big 12 team to take a tumble, as Oklahoma State fell from sixth to 11th after being swept by Gonzaga and dropping game one to BYU. The Cowboys are now 9-6 and looking to rebound against Dallas Baptist on Wednesday.
Texas Tech stayed put at 17th, and now sits at 14-3 after a 4-1 week, while TCU also remained steadfast at 21st with a 3-1 record last week.
Here is a look at the entire poll, courtesy of D1Baseball.com.
Ole Miss (13-2)
Texas (13-4)
Arkansas (11-3)
Vanderbilt (13-2)
Oregon State (11-2)
Notre Dame (11-1)
Tennessee (15-1)
Florida State (10-5)
Florida (13-4)
Georgia Tech (13-3)
Oklahoma State (9-6)
Standford (9-5)
LSU (13-3)
Liberty (12-2)
North Carolina (14-2)
Arizona (12-4)
Texas Tech (14-3)
Clemson (14-1)
Virginia (14-1)
Georgia (13-3)
TCU (11-4)
Texas State (14-3)
Mississippi State (10-7)
Maryland (12-2)
Gonzaga (11-4)