Big 12 News
The Big 12 Conference May Not Split Divisions After Expansion: Report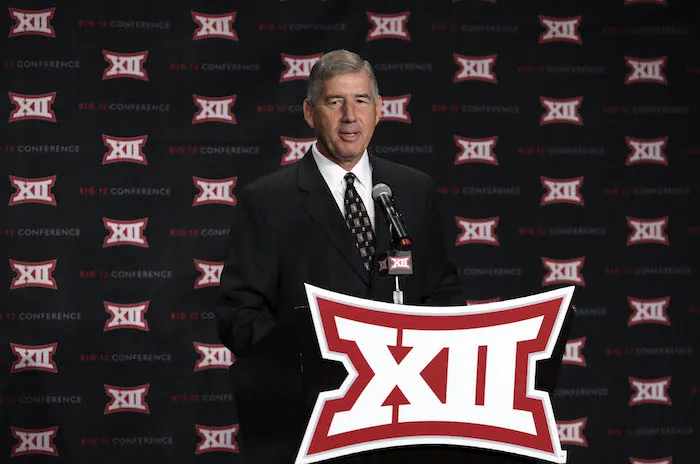 According to Drew Davison of the Fort Worth Star-Telegram, The Big 12 conference may not split into divisions when the conference expands in 2023-24.
League officials and athletic directors met in Kansas City last week during the Big 12 basketball tournament and were unable to come to a final decision on whether to bring back divisions. According to Davison, three division models were discussed but there wasn't a consensus favorite among the group, leading to no decision being finalized.
There are also those that believe the conference might move on without divisions, even though NCAA rules require any league with more than 12 teams to have divisions for football. However, Davison says that a source tells him the NCAA is close to passing new legislation that would drop that requirement.
"It hasn't been decided that divisions [are] even the best route," a source told Davison. "We won't have this finalized until later this spring."
The Big 12 looks to actually be the "Big 14" in 2023-24 when BYU, Cincinnati, Houston, and UCF are added to the conference. Then, in 2025 (presumably) Oklahoma and Texas will make their move to the SEC bringing the Big 12 back to 12 teams for the first time in more than a decade.
It sounds like the league would prefer to continue playing nine conference games in football when the new additions are made, however it has yet to be determined how scheduling will play out. The same goes for basketball, which prefers to keep the 18-game conference schedule going.
One way or another, we will see some new faces in the conference after next season and that is exciting. There are plenty of details to hash out between now and then, but it sounds like the ball is already rolling.