Big 12 News
Todd McShay: Iowa State's Breece Hall is Top 2 RB Prospect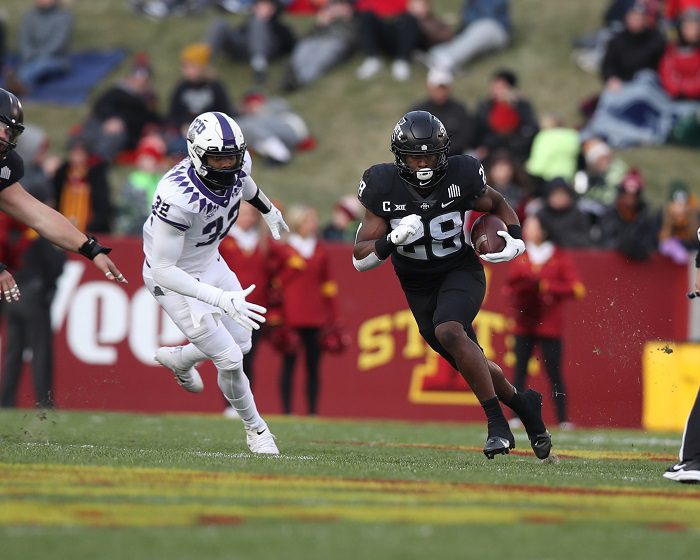 The NFL draft is about six weeks away and the NFL Scouting Combine is in the rearview mirror. While there are still several Pro Day's to be hed between now and the Draft on April 28th, the top running back in the year's class is just a two-man race according to ESPN's Todd McShay.
"It's kind of a competition, in my mind, between Kenneth Walker from Michigan State, who is the best pure runner in this class and ran the faster 40 time between he and Breece Hall from Iowa State," McShay said on ESPN's First Draft podcast. "He's also competing to be that first running back off the board, very likely in the second round. Walker had a good workout. He ran a slightly-faster time than Breece Hall did. But Breece Hall, what a complete workout at 217 pounds. He comes in and he runs a really good 40 time, really impressed with a 4.39. If you're a running back, you're happy at 4.5, you're really excited in the mid-4.4s, and 4.39 is outstanding."
McShay is hesitant to call one better than the other, but if you ask Breece Hall, it's not a competition.
"Over the last two years, no other running back's been able to do what I've been able to do. Nobody can do what I can do with the ball in my hands," Hall said during the NFL Combine interviews. " … I'm top two and I'm not two, so I'll tell you that. I'm the best running back in this draft."
It's hard to argue with the two-time Big 12 First-Team selection, back-to-back Big-12 Offensive Player of the Year, and two-time All-American. Hall's production over the past two seasons speaks for itself: 3,526 all-purpose yards and 46 touchdowns, including 5.7 yards per carry. Hall was borderline unstoppable in Ames and deserves to be squarely in the conversation to be taken as the RB1 in the second round.