Big 12 News
AAC Commissioner: We've 'Made Progress' In Reaching Deal To Allow Teams to Depart for Big 12 in 2023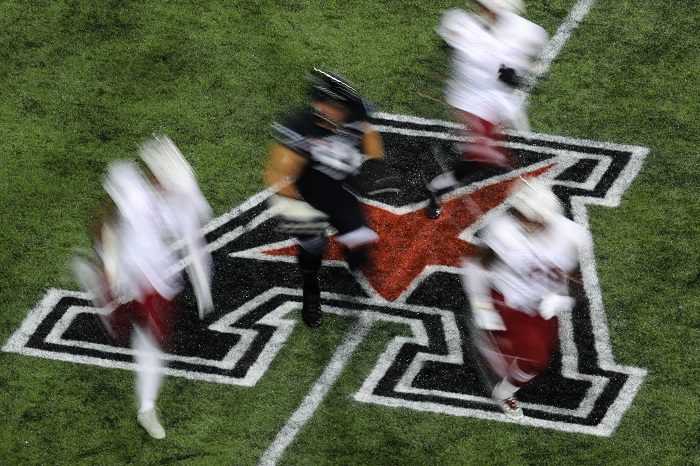 The American Athletic Conference is set to lose three teams in the near future as Cincinnati, Houston, and UCF are ready to bolt to the Big 12 and join "Power Five" status.
With the plans in place and membership accepted, the only thing standing between the three schools and their official membership to the Big 12 is stipulations regarding their departure. When Cinci, UH, and UCF gave notice last year that they were leaving the conference, it started a 27-month clock that is built into the AAC bylaws.
This 27-moth notice would allow them to leave after the 2023-24 academic year, once they pay the $10 million exit fee of course.
That was the plan until it was announced that the AAC wants an extra $35 million from each school if they are to leave for the Big 12 one year earlier, in 2023. Obviously, that's a big number, especially when you take into account the original $10 million that would still be owed.
Now, AAC Commissioner Mike Aresco opened up about the negotiations taking place between the departing schools and his conference.
"We're talking," Aresco said to OwlsDaily. "We think we've made some progress. A couple of things I would point out, though, that I think are important to note. One is we don't have to talk to anyone. We're not required to. Our bylaws are very clear, and we strongly support bylaws being enforced. Because otherwise, college conferences collapse in terms of how they run and how they operate. So we're a strong proponent of that.
"And we've told our new members that they come in when the others leave, in all likelihood. We wouldn't take them unless they had a right to leave. And they're fine with that. They fully understand it. They're totally on board with that."
The AAC is set to add Charlotte, Florida Atlantic, North Texas, Rice, UAB, and UTSA from Conference USA when Cincinnati, Houston, and Central Florida leave the conference.
"We don't have to be talking to the three departing schools, but we are," Aresco said. "And we are because if they would like to leave early, and they've evinced a desire to leave a year early, then we're more than willing to talk to them and see if we can't reach a settlement, which is typically a financial settlement. And that's what we're working on now. Now, have we gotten closer? Yes. Are we there yet? No, we're not. And if we don't get there, then we would just say, fine, we'll stop the negotiations and you would stay until July 1, 2024, which they've said they would do if we ultimately can't reach agreement. I'm hoping we can if in fact they want to leave, and it does appear that they do.
"It appears the Big 12 would be willing to take them in 2023-24. But the Big 12 has made a point I think that they're not taking them unless they have a right to go. I think (Big 12 Commissioner) Bob (Bowlsby) has made those statements. You can check and correct me if I'm wrong. So at this point the discussions continue. You know they're all good friends. (Houston AD) Chris Pezman has been one of our stalwarts, (Cincinnati AD) John Cunningham, (UCF AD) Terry Mohajir hasn't been in the league as long as they've been. But we're trying to do it amicably.
". . . So again, we'll keep talking. We hope to get something resolved. If we're going to reach a settlement for them to exit earlier in 2023, and again we have no obligation to do that, we're happy to have them stay, more than happy to have them stay, it's probably got to be done fairly soon. We've got some deadlines we're looking at with schools that would like to come in potentially and have to give their notices as well. So there's some urgency to our discussions. And that's probably the best description at this point I can give you."