Big 12 News
Five-Star QB Arch Manning Plans Return Visit to Texas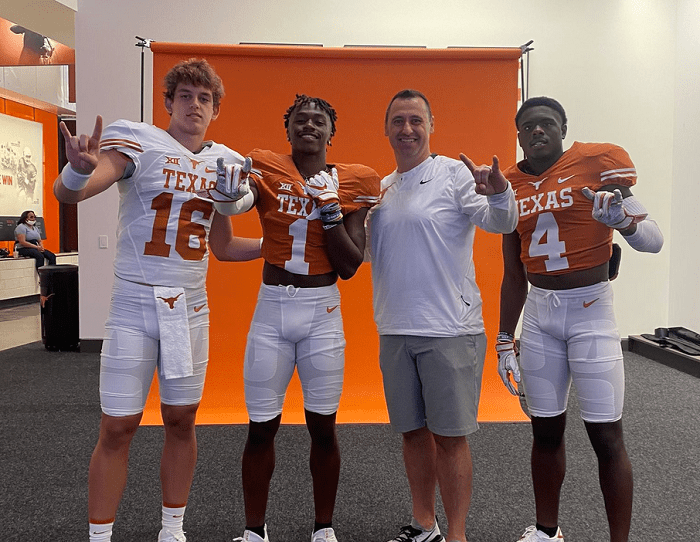 Five-star quarterback recruit Arch Manning is set to visit Georgia this weekend (March 19), and then Texas on March 24, according to 247Sports.
The Isidora Newman product out of New Orleans, Louisiana is the crown jewel of the 2023 recruiting class and visited both of these schools last summer and also attended games in the fall. His head coach Nelson Stewart spoke with 247Sports' Steve Wiltfong and gave a bit of insight into the race for Manning's services in 2023.
"He's excited to watch practice, he's excited to watch meetings," Nelson Stewart told 247Sports. "Really get a chance now that the pandemic has really passed to get in the weeds and watch how they coach and watch what they do and get a feel for the staff and organization of it. He's most excited to watch practice. That's what it's about. That's what he enjoys most about the game. He's a meat and potatoes kid, it's a work visit as much as anything and he wants to get into the quarterback room and see how it works."
It is a six-horse race for Manning at this point in time, with Alabama, Florida, LSU, and Ole Miss in the running with the Bulldogs and Longhorns.
"Georgia he's gotten to know Coach (Todd) Monken really well," Stewart said. "I think Coach Monken has done a really good job with this recruitment. Obviously what they did with their offense, and all of them came down to watch him play basketball, I think he has a good relationship with the staff. I think he enjoyed the players. It's a great opportunity for him to low-key go there and watch what made them great. They do a good job with pro-style, that's what Coach Monken does and he's excited. This will be a great chance for he and his dad to check out Athens and look at it in a different light. It's nice where it's not a Saturday and a game and those camera. This to me is when I think the real authentic recruiting is done and you get to really see what it's like out at practice. He'll be able to experience what being a player at Georgia is all about."
As Manning prepares for his spring practices in May, knocking out these last few visits is important as he gets a feel for where he will end up playing in college. Arch heads into his senior year with three years of starting experience under his belt, racking up 6,307 yards and 81 touchdowns through the air and another 19 touchdowns on the ground.
"He's in a great spot," Stewart said. "He's worked real hard in the weight room. He's working with all our offensive coaches. Awesome kid to coach. We're excited to watch him throw it around in May for sure."