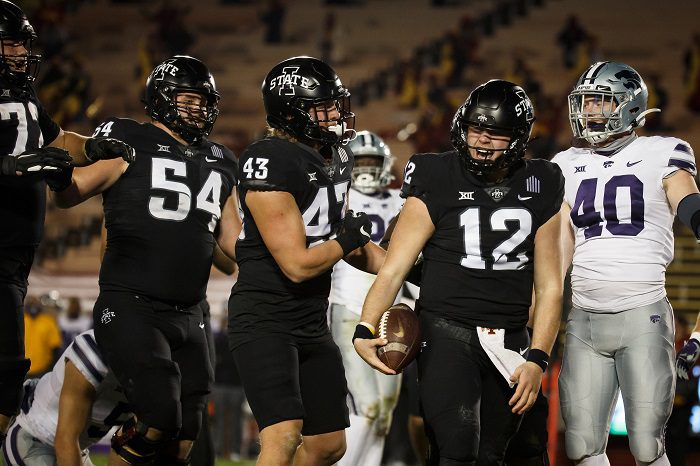 Iowa State's spring football practices are underway, and while it's still way too early to say anything definitive about how the 2022 version of the Cyclones might shape up, there's always room for speculation.
Here are four Spring thoughts on how Iowa State might look in 2022:
1. HUNTER DEKKERS WILL BE THE STARTING QUARTERBACK
No, the job isn't his yet, and yes, there's a lot of practice between now fall kickoff, but the money has been on Dekkers since the 2021 season ended.
Head coach Matt Campbell stated in his first press conference of the spring on March 7 that Dekkers is the leading candidate to replace Brock Purdy due to his experience in the program over the last two seasons and the ability he showed as Purdy's backup in 2021.
2. LINEBACKER WILL BE A POSITION OF STRENGTH
While replacing Mike Rose won't be easy, Campbell and the ISU coaching staff see the depth and experience in the linebacking room as a serious strength. O'Rien Vance and Gerry Vaughn are two seasoned veterans at linebacker who will be looking to play larger roles in the 2022 version of the Cyclones' defense.
3. PLAY-CALLING MAY CHANGE TO FIT THE PERSONNEL
Losing outstanding tight end Charlie Kolar would be difficult for any team to overcome. The Cyclones have largely hung their hat on outstanding tight end play and utilized tight ends significantly in the passing game.
However, while the Cyclones expect to continue having excellent tight end play, they may not throw the ball to the tight ends as much as they have in the past.
In Campbell's aforementioned press conference, he pointed to Easton Dean and DeShawn Hanika as leaders in the tight end room and noted that Tyler Moore, a redshirt freshman, is stepping up. However, he pointed out that great coaches build their schemes around their players, and it remains to be seen if ISU will continue to heavily utilize tight ends as receivers in the passing game.
4. IOWA STATE AS AN UNDERDOG WILL BE BETTER THAN YOU MIGHT THINK
The book the Cyclones this offseason is going to be that it's a rebuilding season in Ames, and most, if not all, of the national media is likely to write ISU off as an also-ran in the Big 12.
However, make no mistake: this is a team that can shock a lot of people and remind everyone that Matt Campbell can coach more than a little bit.
Yes, losing Purdy, Kolar, Rose, Breece Hall, and others is going to hurt – how could it not? But football is a team sport, and Campbell has shown that he's at his best when he's leading a team that's a decided underdog.
Last summer, we wondered if Iowa State could handle the psychology of being the hunted instead of the hunter.
While it is impossible to say definitively that that shift in mindset was the root of ISU's disappointments in 2021, the evidence suggests that it was certainly part of the problem. A Matt Campbell team with an underdog mentality probably wouldn't have dropped games at West Virginia and Texas Tech in 2021.
Psychology aside, ISU should have plenty of pop, particularly on defense, in 2022. DE Will McDonald IV returns for his senior season, and the Cyclones have intriguing pieces all over the field. The revamped secondary, in particular, might be a killer.