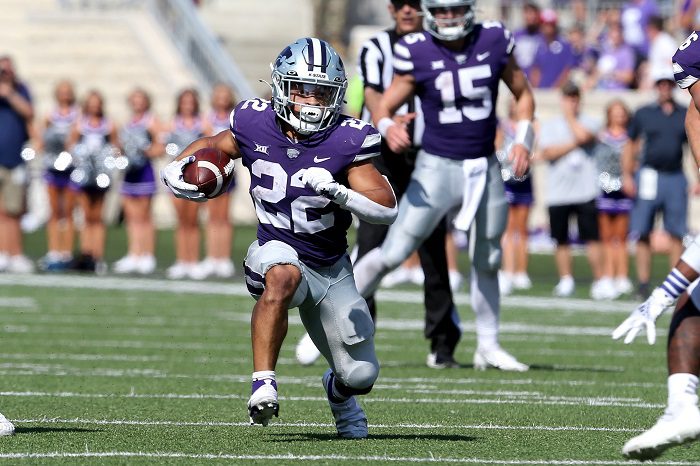 Head K-State football coach Chris Klieman has put together two eight-win seasons wrapped around a disappointing four-win effort in the shortened Covid season of 2020. Even in that disappointing (fluke?) season, the Wildcats managed to beat Oklahoma in Norman, a task accomplished by very few teams.
Now, as Klieman guides his team into the fourth season of his tenure, the Cats might be ready to a step up and truly contend for a spot in the Big 12 Championship game.
I will admit that this is a season I have been looking forward to for K-State for quite some time. I was a fan of the Klieman hire when it happened, but I knew it would take several seasons for the successor to legendary head coach Bill Snyder to put his stamp on the program.
Those several seasons have now passed, and while K-State will have its vulnerabilities in 2022, it very well could be Klieman's best to date.
As I said in my Iowa State spring musings, there are a lot of practices between now and fall kickoff, but it's never too early to start speculating. While I'm not picking K-State to win the Big 12 or even to play for the Big 12 title, I do believe that K-State should be one of a handful of teams that legitimately contend for a spot in the title game.
Here are four reasons I think K-State should be a contender in the Big 12 this season.
1. DEUCE + MARTINEZ = DANGEROUS BACKFIELD
In 2021, RB Deuce Vaughn became just the 11th Consensus All-American in K-State's history. He's been compared to K-State and NFL great RB Darren Sproles, and many believe he could be a Heisman Trophy finalist this fall.
However, Vaughn will have something this season that he has not enjoyed in past seasons: He will be in the backfield with another elite rusher, QB Adrian Martinez.
Now, before readers start with a cascade of "buts," let me address a few things.
First, Martinez absolutely still has to win the starting job; however, he must be considered a heavy favorite to do so.
Second, yes, of course, Skylar Thompson was very good at rushing the football, but Thompson's rushing ability was all about timing and toughness, and he did not possess the pure athletic magic that Martinez possesses.
Finally, of course, Martinez has to limit turnovers. However, Martinez never had a running back like Deuce, and the offensive lines he played behind at Nebraska were not very good; in fact, many considered the offensive lines that Martinez played behind to be among the worst in the Power 5. Football is a team sport and a good offensive can have a massive impact on a quarterback's ball security.
This leads to another reason Deuce + Martinez should be so deadly this fall: K-State's offensive line will be solid again in 2022.
2. THE DEFENSIVE LINE WILL BE AMONG THE BEST IN THE CONFERENCE
Most Big 12 fans know who DE Felix Anudike-Uzomah is by now.
He's the guy who last season led the nation in forced fumbles, collected 11 sacks, and just missed setting the NCAA single-game sack record due to a technicality (he actually sacked the quarterback too well) against TCU.
Well, that guy is back for his junior season, and his bookend, DE Khalid Duke will be back after missing most of last season with an injury. Duke was supposed to be K-State's new sack artist last season, and he began the season on track to do just that with two sacks in the first two games of the season before he was lost for the year against Nevada.
With Uzomah and Duke at DE along with considerable depth behind them and at nose tackle, K-State's second season of running a stacked defense is going to be a good one. The three-man front will generate pressure and give opposing offenses fits all season long.
3. K-STATE WAS SURGICAL IN THE TRANSFER PORTAL
Every team has some reloading or even rebuilding to do from season to season. K-State has handled the transfer portal masterfully this offseason to fill out the roster with immediate starters and contributors where they're needed.
All of K-State's transfers come from Power 5 programs, and QB Adrian Martinez might not be the best of the group. LB Branden Jennings is a four-star transfer who will step in beside rising star LB Daniel Green, a player that I believe will have an All-Big 12 season in 2022.
What it all boils down to is that while K-State has holes to fill, the 2022 Cats will enjoy greater depth, experience, and overall speed than the team has had since Collin Klein, Arthur Brown, and Chris Harper wore purple.
4. THE BIG 12 IS WIDE OPEN IN 2022
With the exception of Baylor, there are no clear-cut early contenders in the Big 12.
Oklahoma has a world of talent, but it's in the midst of a massive transition (and no, Phil Steele did not put Oklahoma in his Top 10 recently; he projected that OU will be in the preseason AP Top 10). That's not to say Oklahoma won't be in the Big 12 Championship game, but I think it would be foolish to overlook the turnover on Oklahoma's roster and coaching staff, especially since the Sooners' new head coach has never been a head coach before.
Texas, as always, has a wealth of talent, but it will be relying on a new quarterback for the second time in as many seasons, and the Longhorns have yet to demonstrate any kind of cohesion under Stever Sarkisian. I'll believe that Texas is back when I see it.
Oklahoma State has massive holes to fill on defense and replacing RB Jaylen Warren may be no small task.
I think Iowa State will be good, but the Cyclones also have a lot of holes to fill.
Similar to Oklahoma, TCU and Texas Tech are breaking in new coaching staffs, and WVU has some roster issues.
Kansas State, from this spring vantage point, is one of the most complete teams in the conference and has consistency at the coaching level that several of the league's usual suspects do not.