Baylor Bears
How Each Big 12 Team Reaches the Sweet 16 of the 2022 NCAA Tournament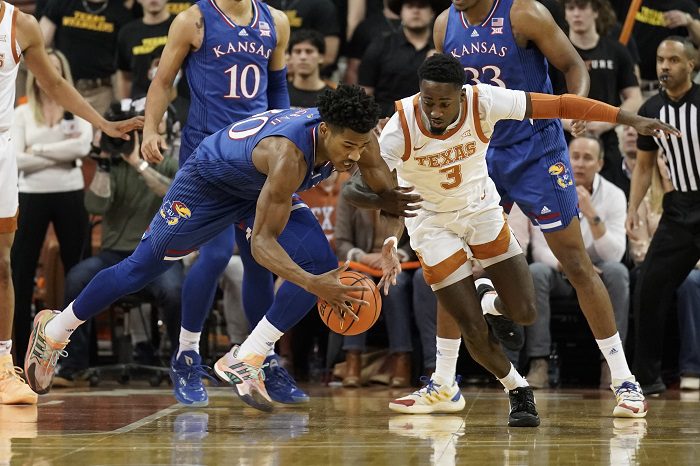 March Madness is finally here, and aside from having to watch as Rex Chapman (who has probably watched less than 2 hours of college basketball this year judging from last night) tries to learn about college basketball during the halftime shows, it should be a great 3 weeks.
6 Big 12 teams are in, 3 are protected seeds, and a couple of others got favorable draws to get to the Sweet Sixteen, here are the keys for all of them to make it out of the first weekend.
Kansas: Get Production out of Remy Martin, Limit the Three
16 Texas Southern -THEN- 8 San Diego State or 9 Creighton
San Diego State is a very good defensive team, holding their opponents to under 58 points a game. The problem for the Aztecs? They still don't have as good of a defense as Texas Tech, Baylor, or Texas, so Kansas shouldn't have too many problems overcoming that part of it. On the flip side Creighton, probably has their best defense ever under Greg McDermott, is allowing under 66 a game, and scoring 69 per contest. If they get hot from three, coupled with quality defense, they could give Kansas some fits. The problem with both these potential matchups is that quality defense travels, and if both can shoot slightly above their season average that could limit Kansas's chance to pull away. That's where Remy Martin comes in. If they can get 10 or more points from someone off the bench it won't be a problem, and Martin's got 12 and 10 in his last two games. Get anything out of him, and limit the threes, and Kansas won't have problems.
Baylor: Play Defense, Play At Their Own Pace
16 Norfolk State -THEN- 8 North Carolina or 9 Marquette
At first, I had Baylor as my 1 seed to miss out on the Sweet 16, I had North Carolina penciled into the 16 by 6 pm on Sunday. Then I came to my senses, the problem with Baylor is injuries without missing Cryer and Tchatchoua they'd probably be my National Title pick. But their bench is short and they're down both a big man and crucial guard, even if Cryer comes back he won't be near 100%. Obviously getting by Norfolk State shouldn't be a problem, and getting the one seed was critically important because now they should be able to manage minutes in their first game and be well-rested for their Saturday matchup, against a team that's going to have a straight 50/50 game 48 hours prior. North Carolina may be a trendy pick but they haven't strung multiple big wins together all season, and have been protected by a down ACC. While they're still dangerous based on their pure talent alone, they're probably valued too much in this matchup at the moment. Marquette is a team that likes to run, but they allow more points than Baylor, scoreless and against a weaker schedule, that's not a great combination. Add in the fact that they're 4-6 in their last 10, and it's not a good sign. So long as Baylor can play their defense, and either limit Manek or keep Marquette from running, they'll make the Sweet 16.
Texas Tech: Have Terrence Shannon Jr. hit shots and break droughts 
14 Montana State -THEN- 6 Alabama or 11 Rutgers/ Notre Dame
If you told me that Texas Tech would get Duke as the 2 seed in their region I'd be making plans for their Elite Eight game, but when I saw they may have Alabama in the second round, I don't know if they'll even have a Sweet 16 game. Montana State is also a less than desirable matchup as far as a 14 seed goes, Texas Tech's Achilles heel with the no middle defense is it leads to open threes. Montana State shoots 37% from 3, and 47.5% from the field, however, there is a reason Tech fans should feel optimistic. Montana State allows 68.5 points a game, against a weak schedule, which could give Texas Tech momentum on that end. As long as they hold Montana State under 45% from three and get some offense from Shannon they should get through without pain.
The second round is more difficult, because of an unusual schedule where the Rutgers-Notre Dame winner has to fly over 2100 miles and play a new game within 42 hours it's unlikely Tech faces either. Yet, Alabama has shown an ability to lose to just about anyone this year. Rutgers simply needs to keep Ron Harper and Geo Baker from both going off. Notre Dame will be disciplined, but Tech would just need to wear them down with their defense since the Irish will have played five games in 96 hours. Alabama has proven capable of beating the best just as they've shown they can lose to the worst. This is a Tide team that loves to run, they play very guard-heavy, and plan on outsourcing opponents. The good news for Texas Tech is they have 6 guards in their 10 man rotation, and even all 4 of their big men have shown the ability to defend guards on the perimeter. Add to that the fact that they also have plenty of guys that can run on the full court, the more confident I am in Tech here. The danger is without Shannon scoring they go on a lot of droughts, and Alabama can go on a big run with their offense. As long as Shannon can make a few baskets to end droughts, and Texas Tech can limit how much Alabama gets to run, they'll play next Thursday.
Texas: Have Jones and Ramey firing, Plus have Purdue continue to be lazy defensively
11 Virginia Tech -THEN- 3 Purdue or 14 Yale
Virginia Tech is a very bad matchup for Texas, moving off that 5 line in the last week really hurt them. I'd favor them against any 12 seed, but this is going to be difficult. Virginia Tech plays a similar style to Texas offensively, playing in the half-court and taking up the shot clock. Virginia Tech is just so much more experienced together; it's a very similar team that they brought to the tournament last season, and they're coming off an ACC Tournament win, and have won 13 of their last 15. Texas on the flip side is cold losing their last 3, however, they are more battle-tested, and do have some guys that hit big shots. Jones and Ramey can get hot from three, and Carr has shown he can hit some difficult shots to keep them alive, if at least 2 of those 3 are firing they have a good shot.
If they win on Friday I actually like their chances with Purdue, they're a team that is horrendous on defense this year and great on offense, so a mirror of Texas. But defense travels offense, not so much. Purdue is weird, this is a very similar team to last year's team which ranked top 25 on defense, but their best players are playing lazy and soft on defense this year. A microcosm to watch vs Yale is what Jaden Ivey does on defense, if he's struggling off the ball and selling out to try to get steals for break-away dunks Texas fans should be confident if he's disciplined and working hard off the ball Texas fans should be worried.
TCU: Have Miles healthy, and stay in the game late vs Arizona
8 Seton Hall -THEN- 1 Arizona or 16 Wright State/Bryant
This one's tough. There's not much that TCU has to be overly concerned about against Seton Hall, if they have Miles 100%, and play like they have the last couple of weeks this should be the clearest 8/9 matchup. Getting anything offensively out of Micah Peavy is big, he's probably one of the best 20 on-ball defenders in the country, but can struggle offensively at times. The problem I see for them is Arizona. TCU's seen and beaten some unique styles in Big 12 play but they haven't seen a style like Arizona's. Arizona is like a team, and style is taken out of Europe with elite big men. If their top point guard Kriisa remains out TCU could more easily force the game into a style the Frogs prefer, at that point if they can keep it tight till the last 5 minutes they can rely on what they've done in wins against Texas Tech, Kansas and Texas the past couple weeks, and have a shot. Overall, TCU fans should feel good about getting their first Tournament win since 1987, but Arizona is a brutal matchup in the 32.
Iowa State: Have Brockington play well, LSU's head wrong, and Johnny Davis not be 100%
6 LSU -THEN- 3 Wisconsin or 14 Colgate
If you asked me which Big 12 team had no chance of the Sweet 16 on Sunday morning I would've said Iowa State. Now if you ask between them, TCU and Texas who has the best chance, Iowa State is my pick. This is a GREAT draw for the Cyclones, they get to play within a six-hour drive of Ames, and after going to Kansas City last week I can guarantee you they'll be the home team all weekend. First off they need Brockington firing on all cylinders, without that everything after this is worthless. LSU should not be a 6 seed, TCU has already run them off the court, they got the same treatment against Arkansas, and their head coach got fired less than a week ago. If the Tigers' heads aren't 100% and Brockington plays well Cyclones win.
Against Wisconsin, it's going to matter how healthy Johnny Davis is. Without him the Badgers may be an NIT team, (without Brockington the Cyclones are NIT-at best) they lost at home to a Nebraska team that is just awful with the Big Ten title on the line, then lost to Michigan State without him being 100%. If Davis is hurt and Brockington can play well Iowa State should advance.