Baylor Bears
Baylor Needs More of Matthew Mayer's First-Round Performance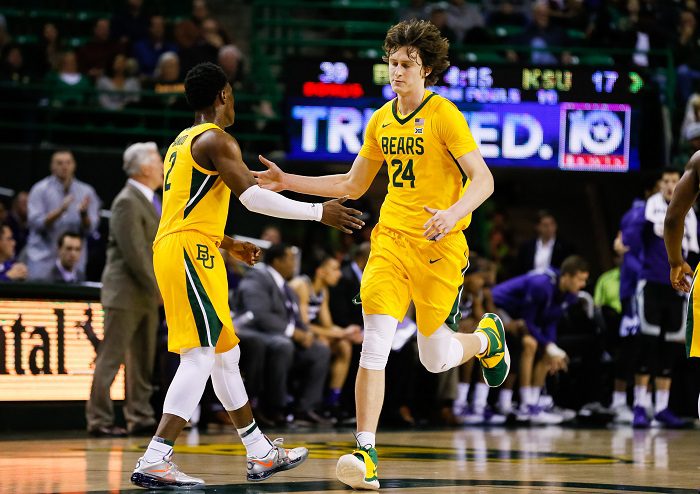 FORT WORTH, Texas — Yes, No. 1 seed Baylor was expected to cruise past No. 16 seed Norfolk State, and the Bears did, 85-49. So one has to look deep for something to critique.
So, let's not and talk about what the Bears need MORE of if they want to mount as rigorous a defense of their national title as possible.
They need more Matthew Mayer.
Thursday was exactly the kind of game the Bears need from their senior forward. He scored 22 points on 8-of-12 shooting, grabbed six rebounds, one assist, two steals and a blocked shot against the Spartans. His 22 points was a career high. The Bears fed him early, and it helped Mayer and the Bears establish the outside shot against Norfolk State's zone defense.
"Yeah, that was big," Mayer said. "For me personally, I've been in a little bit of a slump. And my teammates were finding me. Dale (Bonner) found me early. I think Adam (Flagler), and then I just felt a lot better."
That efficiency was critical. Inside that 8-for-12 from the floor was a 4-for-7 game from the 3-point line. Even with LJ Cryer not expected to play this weekend, the Bears' best asset is the 3-point shot. Adam Flagler can hit it. So can James Akinjo. Both had a pair on Thursday.
But Mayer can be an x-factor from behind the arc, if he can emulate what he did on Thursday. Even if he doesn't score that many points, being that efficient from the 3-point line would be a huge lift.
"I don't know if he'll have 40 next game or if he has a 10," Baylor head coach Scott Drew said of Mayer. "Other people will step up and that's what it takes in a great team, is you got to have different people. Otherwise, you just key on one or two guys and you're losing."
Mayer introduced himself to national basketball fans last spring as the 'mulleted' member of the Bears' national title team. He declared for the NBA Draft, got his report card and came back to Baylor. The expectation was that Mayer had the measurables to be an NBA Draft pick this year and just needed to show it on the floor.
Mayer's season numbers going into the NCAA Tournament went up from last year, but maybe not as much as some might have thought — 9.4 points (from 8.1 points last year) and five rebounds (from 3.7 last year). He's only playing seven more minutes per game than a year ago.
So perhaps there was some overestimation of how head coach Scott Drew would use Mayer with a new configuration that includes Flagler and Akinjo, along with new forwards Kendall Brown and Jeremy Sochan? Or maybe Mayer has simply done his best to fit into the balance that Drew wants offensively?
What is clear is that Thursday was the 6-foot-9 forward's best game of the season (bettering his 20 points against West Virginia on Jan. 18). Wonder how many 3-pointers he hit that night?
Five.
The Bears are 18-4 this season when Mayer hits a 3-pointer. Look a little deeper and you'll find the Bears are 9-3 when he hits two or more, and 4-0 when he hits three or more.
So with injuries and a short rotation, perhaps this is what the Bears must do to extend their stay in the NCAA Tournament.
Feed the mullet from three.
You can find Matthew Postins on Twitter @PostinsPostcard.