Baylor Bears
Big 12 Baseball: Weekend Preview as TCU and Baylor Open Up Conference Play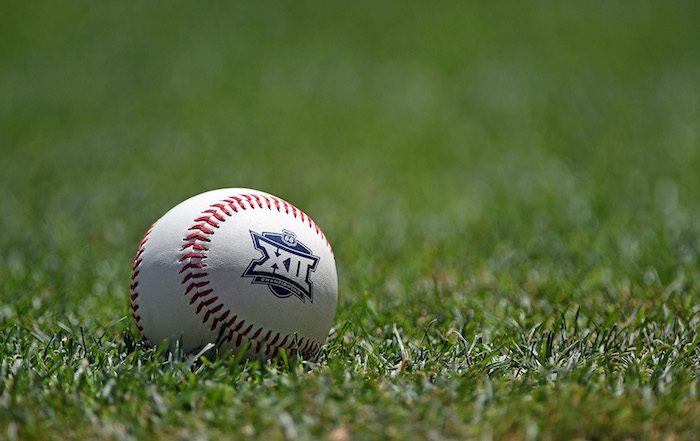 College Baseball is back in full swing as we have just finished with the first full month of action. After a wild weekend last week, we are back again for another jam-packed weekend with plenty on the line.
This upcoming weekend we have a few series to keep an eye on and a couple of key matchups.
Notable Games
#2 Texas vs Incarnate Word
What in the world has happened to these Longhorns? After falling to Texas State last week in Austin, they went out to South Carolina and dropped their first series of the season. Ever since Tanner Witt went down to injury, this team hasn't looked the same. I know Pete Hanson and Tristan Stevens are solid pitchers but who can step up and be that third arm in the rotation? Lucas Gordon got rocked last Sunday in Columbia and I am interested to see if he can get back on track. With all that said, Incarnate Word isn't someone who should give Texas any trouble.
#21 TCU at Baylor
Hello conference play as we finally have our first Big 12 matchup of the season. Both of these teams have been playing well over the last week and it should create an exciting series down in Waco. Baylor has relied on some great pitching so far with Tyler Thomas leading the way on the mound.
Outside of their trip to the bluegrass state, TCU has been good this season, especially at the plate. The Horned Frogs have scored the second-most runs in the conference and five players batting over .300. The matchup to watch this weekend will be the Baylor pitchers against the good bats of TCU. Whoever wins that will take the series and I am looking forward to it.
#17 Texas Tech at Iowa
Outside of the Baylor/TCU series, this one is a must-watch for any baseball fan. There may be no hotter team at the plate than these Texas Tech Red Raiders. Between Jace Jung, Parker Kelly, Ty Coleman, Owen Washburn, Kurt Wilson, and a couple of others, this is a dangerous lineup to pitch against. Of course, Tech can pitch too especially when Brandon Birdsell is dealing. While Texas Tech remains one of the hottest teams in baseball, Iowa is no slouch. They are a team that is second in the Big Ten in ERA and have enough offense to win a series. The Hawkeyes gave a really good UC Irvine team a scare on the road a while back and are capable of beating this Tech team. Will it happen though? I don't think so.
West Virginia at Campbell
I know what some of you may be thinking. Campbell? Who is that? But I am here to tell you that they have an exceptional baseball program there. Last season they gave Mississippi State all they could handle in a regional matchup and this year they bring back a lot of key players. Their shortstop Zach Neto is one heck of a ballplayer, and they have a great one-two punch on the mound with Thomas Harrington and Cade Kuehler. So far, I have had a little trouble putting my finger on this West Virginia team and I should get a better idea of them after this series.
Other Games
#11 Oklahoma State vs Seton Hall
The Cowboys are back home at beautiful O'Brate Stadium as they face a very underwhelming Seton Hall team. Oklahoma State has struggled at times at the plate, but the good news is that the Pirates have allowed a ton of runs so far this season. Not only do they have a 1-12 record on the year, but they have given up double-digit runs six times already this season. That should help those bats of Oklahoma State get going and help kick it to another gear after this four-game series is over.
Kansas at Indiana State
The Jayhawks will have their hands full with this Sycamores team because they can hit the ball. Kansas has struggled with pitching this season and Indiana State is a squad that can expose that. Along with their pitching woes, Kansas has also had a tough time putting runs on the board. If there is any way the Jayhawks can walk out of this series taking two games, it would be huge.
Kansas State vs Morehead State
There is no other way to describe Morehead State than not particularly good. This should be a series where Kansas State sweeps but who knows with this team sometimes. However, they have been hot over the last few games as they have won seven out of their last eight. Blake Adams has pitched great over his last three outings and the bats of Dylan Phillips, Cole Johnson, and Dominic Johnson have helped out as well.
Oklahoma vs New Orleans
I am not sure what has happened with this Oklahoma team, but I am loving what I have seen over the past six games. Ever since their trip from Houston, the Sooners have been excellent on the diamond. Peyton Graham has been swinging the bat well and Jake Bennett, as well as Chazz Martinez, have been good on the mound. New Orleans is a sneaky good team, and they also have two good pitchers as well. Neither team may score a bunch of runs in this series, but it should be a fun one to keep an eye on.