featured
Kansas Easily Beats Texas Southern in NCAA Tournament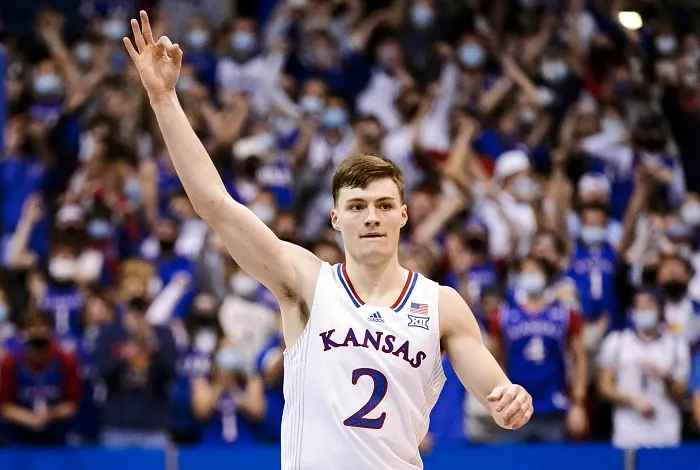 FORT WORTH, Texas — Kansas wasn't precise. Kansas wasn't perfect. But Kansas was perfectly fine for a first-round NCAA Tournament game as a No. 1 seed.
The Jayhawks beat Texas Southern, 83-56, in the final game at the Fort Worth subregional, beating a team that it defeated 114-71 in their last meeting in Allen Fieldhouse in 2017. A neutral site didn't balance the scales one bit, as Kansas had a 47-19 halftime lead on the SWAC champion Tigers (19-13). The Jayhawks improved to 5-0 all-time against Texas Southern.
"I thought we did a lot of good things the first half," Kansas coach Bill Self said. "We shared it (the ball), we defended and we rebounded well after we calmed our nerves down we were very efficient."
Of course, for Kansas (29-6) beating the Tigers is a means to an end. The Jayhawks' goal is off in the distance, like three weeks off in the distance — a Final Four trip for the first time since 2018. Kansas forward Christian Braun said as much after the Jayhawks won the Big 12 Tournament championship last Saturday.
"We've got six games left," Braun said, referring to the number of games Kansas needs to win the national championship.
One down, five to go.
These Jayhawks are good enough. Self said before the tournament that he liked where Kansas was at after winning the Big 12 Tournament.
Plus, the path is now a little gentler on its side of the Midwest Region after Iowa fell to Richmond on Thursday. Many had Kansas facing Iowa in the Sweet 16.
Kansas shot well all night, with a percentage that hovered around 60 percent for most of the game before settling around 50 percent. That enabled the Jayhawks to build a healthy lead, and for Self to work in his bench, allowing him to rest forwards like David McCormack and Mitch Lightfoot, who are both nursing injuries while trying to remain in the lineup.
That allowed the Jayhawks to spread the scoring wealth, too. Five different Jayhawks scored in double figures — Remy Martin (15), Christian Braun (14), DaJuan Harris (12), Jalen Wilson (11) and Ochai Agbaji (11). There was no need to lean heavily on Agbaji, who learned on Thursday that he was a consensus All-American.
In fact, Martin had a highlight-reel moment with a dunk. He said he hadn't dunked in months.
"I didn't know Remy could dunk until tonight," Self said.
John Walker III led Texas Southern with 13 points.
Kansas (29-6) will play Creighton (23-11) on Saturday. It will be the 10th time that Kansas head coach Bill Self and Creighton head coach Greg McDermott have coached against each other. McDermott is 0-9. Creighton is 6-10 all-time against Kansas.
You can find Matthew Postins on Twitter @PostinsPostcard.