Kansas Jayhawks
Kansas vs. Georgia Tech NCAA Women's Basketball Preview and Prediction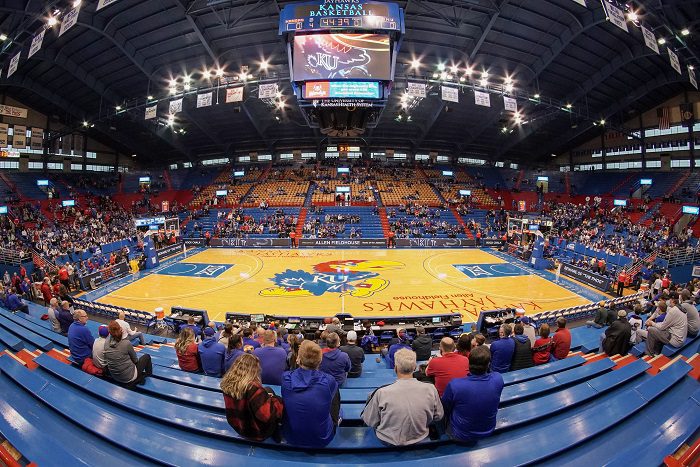 Here is everything you need to know about the Kansas Jayhawks and the Georgia Tech Yellowjackets in our Kansas vs. Georgia Tech NCAA Women's Tournament preview.
NCAA Tournament
Spokane Region – First Round
No. 8 Kansas (20-9) vs. No. 9 Georgia Tech (21-10), 6:30 p.m. CT, Friday, ESPNU, Maples Pavilion, Palo Alto, Calif.
How They Got Here: Kansas received an at-large bid out of the Big 12. Georgia Tech received an at-large bid out of the ACC.
Winner Gets: A second-round meeting with the Stanford-Montana State winner on Sunday.
Projected starting lineups
Kansas: F Ioanna Chatzileonti, C Taiyanna Jackson, G Holly Kersgieter, G Zakiyah Franklin, G Julie Brousseau.
Georgia Tech: F Lorela Cubaj, F Digna Strautmane, C Nerea Hermosa, G Eylia Love, G Lotta-Maj Lahtinen.
Players to watch
Kansas F Taiyanna Jackson: If you're hunting for a player that could move into the upper level of the Big 12 next season, Jackson's a player to watch. With six blocked shots against Oklahoma in the Big 12 Quarterfinals, she became Kansas' single-season blocks leader with 96. Her average of 3.1 blocked shots per game is fourth-best in the country. Jackson is a dangerous defender inside, but her overall game is coming along, too. She's averaging nearly nine points and nine rebounds entering the NCAA Tournament.
Georgia Tech F Lorela Cubaj: On Monday, Cubaj learned she was one of four finalists for the 2022 Naismith Women's Defensive Player of the Year Award. Her body of work is incredible for GT. She is the program's all-time leading rebounder, is a two-time ACC Defensive Player of the Year and was a First-Team All-ACC pick this year. Cubaj isn't about defense either. She averages 11.1 rebounds per game and leads the Yellow Jackets with 4.3 assists per game. She's the only post player in the country that leads her team in assists. Between her passing and defense, any team that game plans for Georgia Tech needs a plan to deal with Cubaj.
Key storylines
Kansas: Kansas was tabbed as the worst team in the Big 12 in the preseason poll. The Jayhawks ended up with 20 wins, the first time since 1999-2000, and a fifth-place finish in the league. While that earned head coach Brandon Schneider a long-term extension and Big 12 Coach of the Year, he and the Jayhawks are looking for more this week. Kansas makes its 14th all-time NCAA Tournament appearance and its first since 2013, which was the second year of back-to-back Sweet 16 appearances. Kansas is .500 in the NCAA Tournament and at one time was a tournament mainstay, making nine straight appearances from 1992-2000. But this is just the program's third NCAA appearance since then.
Georgia Tech: The Yellow Jackets are on the ascent. They're making back-to-back NCAA Tournament appearances for the first time since they made six straight from 2007-12. Head coach Nell Fortner helped Georgia Tech execute an upset of UConn earlier this season, and the personnel on this team is coming together. Four different GT players are averaging at least 10 points per game — Lotta-Maj Lahtinen (11.0), Nerea Hermosa (10.7), Eylia Love (10.6) and Cubaj (10.1). Georgia Tech is balance and flows through Cubaj, one of the few players in the country that is averaging a double-double.
Fun Fact
This is the first time Kansas and Georgia Tech have played against each other in women's basketball.
Prediction
Georgia Tech 65, Kansas 64. The Jayhawks are going to play their tails off to the end, but Georgia Tech's balanced scoring will win the game.
You can find Matthew Postins on Twitter @PostinsPostcard.