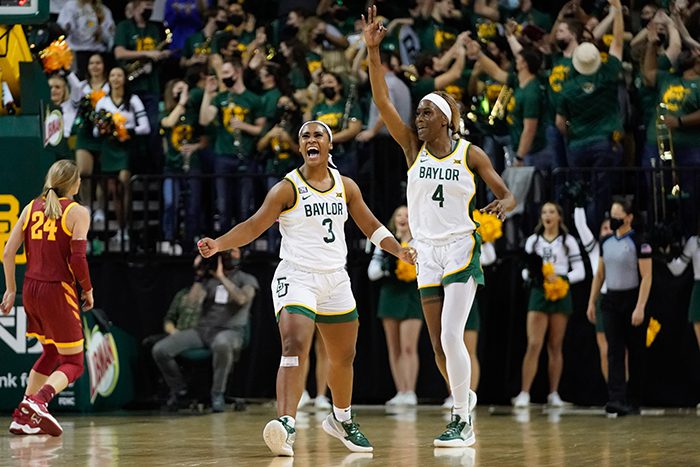 The Baylor Bears flushed the hurt of their loss to Texas in a 89-49 victory over Hawaii in the first round of the NCAA Women's Tournament on Friday at the Ferrell Center in Waco, Texas.
The Bears (28-6) played their first game since losing to Texas in the Big 12 Tournament championship game on Sunday in Kansas City. It marked the first time the Bears didn't win the Big 12 Tournament since 2017, and to some it may have cost the Bears a No. 1 seed in the tournament.
The Bears will face South Dakota on Sunday in the second round.
Entering Friday's game, Baylor head coach Nicki Collen told her players to 'flush' that loss.
"I don't think anyone feels good about how we played in that game," Collen said. "But I think the reality is, I don't think it took anybody's confidence away from how we've played down the stretch and, you know, that we're going to allow one game and the performance in one game to affect how we move forward."
It didn't. The Bears had won a dozen games in a row before the Texas loss, and they just picked right up where they left off.
Four different Bears were in double figures, including their newly-minted First-Team All-American, forward NaLyssa Smith, who had 21 points and 14 rebounds. But guard Jordan Lewis led the Bears with 23 points, along with eight rebounds and five assists.
Guard Sarah Andrews added 16 points, while center Queen Egbo had a double-double, with 10 points and 14 rebounds.
Hawaii (20-10) entered the game coming off winning both the Big 12 regular-season and tournament titles. The Warriors were making their first back-to-back NCAA Tournament appearances since 1989 and 1990. But the Warriors weren't able to add to their win total in the NCAA Tournament, as their 1990 win over Montana stands alone.
But the No. 15 seeded Warriors were no match for the No. 2 seeded Bears, even with immensely talented forward Amy Atwell, who averaged 17.4 points and 6.7 rebounds per game and is one of 13 Hawaii players with at least 1,000 career points and 500 career rebounds.
Atwell had a huge first half, scoring 20 points, and finished with 29 points and 13 rebounds. Her game including six 3-pointers. Kallin Spiller added 10 points and seven rebounds.
You can find Matthew Postins on Twitter @PostinsPostcard.