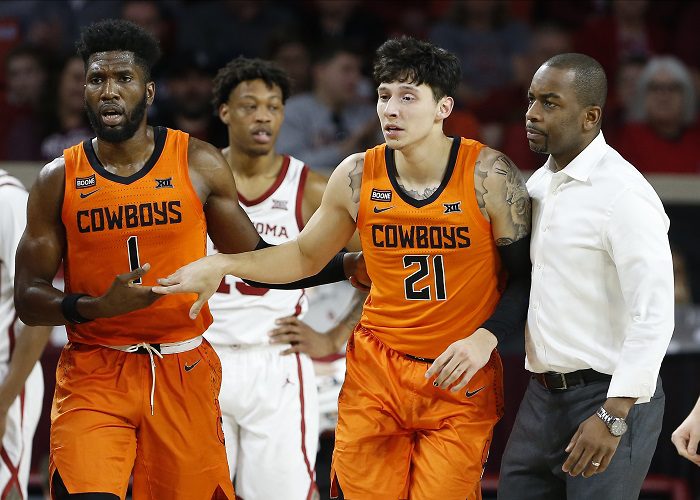 After former Oklahoma State Cowboy Lindy Waters III was called up to the Oklahoma City Thunder from the G-League, we all thought he would log just a few minutes per game as OKC rounds out year two of its rebuilding process. Just another filler piece that we'll never see again by the time next year rolls around.
Fast forward to a little over a month later, Waters III is proving to be a valuable NBA sharpshooter and has even earned a start for the rebuilding Thunder.
We've heard the feel-good story about Waters III's journey to the NBA; a hometown kid from Norman who was a three-year starter at Oklahoma State, went undrafted in 2020, played minor league basketball for the Enid Outlaws, tried out for and made the OKC Blue of the G-League and finally, impressed coaches enough earn a two-way contract with the Thunder.
It's an inspiring tale about perseverance and investing in yourself, but after watching the former Cowboy through just 14 games this season, I'm starting to believe that Waters III's journey to the league is more than just a feel-good story.
In this day and age, the ability to shoot the three-ball is one of the most important facets to have in your game, especially in the NBA. Waters III was a solid shooter at Oklahoma State, but it's becoming increasingly obvious that he's been practicing his threes since entering the G-League. With the Blue, he put up 11.7 points while shooting an incredible 51% from three. The top three-point shooter in the NBA this season, Luke Kennard, is currently shooting 45%.
Following his signing with the Thunder, Waters III shot 44.1% from three in his first ten NBA games, which would put him at third in the entire league behind Kennard and Phoenix's Cameron Johnson. He has also proven to be a physical defender, as shown here by this ferocious pack on Jordan Clarkson:
The Norman native is currently averaging 5.5 points and 2.4 rebounds on 16 minutes per game with OKC. His best outing came against the Memphis Grizzlies on March 13, when he put up 16 points, three assists and two rebounds in 29 minutes played while shooting 44% from three.
If Waters III can keep up his lights-out sharpshooting and physical defense during this home stretch in the 2021-2022 season, I could see him earning a multiyear contract and developing into a dangerous "3 & D" guy for any team looking for a shooter. Whatever happens, I know I'll be rooting for Waters III all the way, and if he blossoms into a premier shooter in the gauntlet that is the NBA, you heard it here first.