featured
TCU Beats Seton Hall in First Round of NCAA Tournament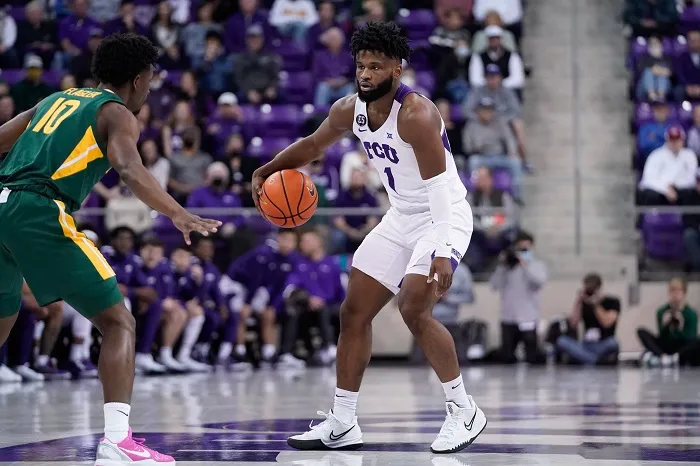 The TCU Horned Frogs beat the Seton Hall Pirates, 69-42, on Friday night in the first round of the NCAA Tournament in San Diego, California.
For the Horned Frogs (21-12), it was their first NCAA Tournament victory since 1987, when head coach Jamie Dixon was the Horned Frogs' point guard.
The Big 12 men finished the first round of the NCAA Tournament undefeated at 6-0. Baylor and Kansas won games on Thursday, while Texas Tech, Texas and Iowa State won games earlier on Friday.
The Horned Frogs played the late game in San Diego in front of a partisan crowd, as the Horned Frogs brought a large group of fans to the tournament. And, thanks to guard Mike Miles and his teammates, they'll get to enjoy San Diego a couple of more days.
TCU led, 30-21, at halftime, and the Horned Frogs kept pouring it on. Two of Seton Hall's top players — forward Jared Rhoden and center Ike Obiagu — were in foul trouble the entire game, with Rhoden fouling out midway through the second half. He had just five points. Obiago ended up with three points.
By the time Rhoden fouled out, though, the Horned Frogs were closing in on a 20-point lead and it was turning into a party.
Miles set the tone in the first half with a great game both ways and finishing with 21 points. He didn't make a 3-pointer until late, but the way the Horned Frogs shot the ball — and the way he set his teammates up — helped more.
Damion Baugh poured in 14 points, while Emanuel Miller added 10 points TCU's defense set a tone early and didn't let up, forcing 16 Pirates turnovers and the Horned Frogs turned those into 15 points, much of that early in the game as they built their lead.
Myles Cale and Jamir Harris led Seton Hall with 11 points each.
TCU, the No. 9 seed in the South Region, will face No. 1 seed Arizona on Sunday. It will do so with a head of steam, even if their recent record doesn't necessarily say that.
The Horned Frogs ended the season with an absolutely brutal stretch of basketball, thanks to some COVID-19 postponements. Starting with a Feb. 21 game against West Virginia, TCU played three games in two straight weeks, and then played two games at the Big 12 Tournament. Along the way, the Horned Frogs faced six ranked teams, played Kansas three times and ended up going 3-3 against those ranked teams.
It left TCU ready for the Pirates (21-11), a team Dixon was familiar with from his Big EAST days when he coached at Pitt.
"As I told our guys, what we've seen in our league, no one's done what we've done," Dixon said. "We had seven games in, I don't know what it is, 15 days or something it was. Almost all of them were ranked and three were number one teams."
A win like Friday is what Dixon has been building toward since he returned to his alma mater six seasons ago. He's led the Horned Frogs to an NIT championship, another NIT Final Four and an NCAA Tournament berth in 2018. But not an NCAA Tournament victory.
Not until Friday. Dixon knew this would be a big deal, even the day before the game.
"Our history is not great, but we're changing that," Dixon said.
You can find Matthew Postins on Twitter @PostinsPostcard.