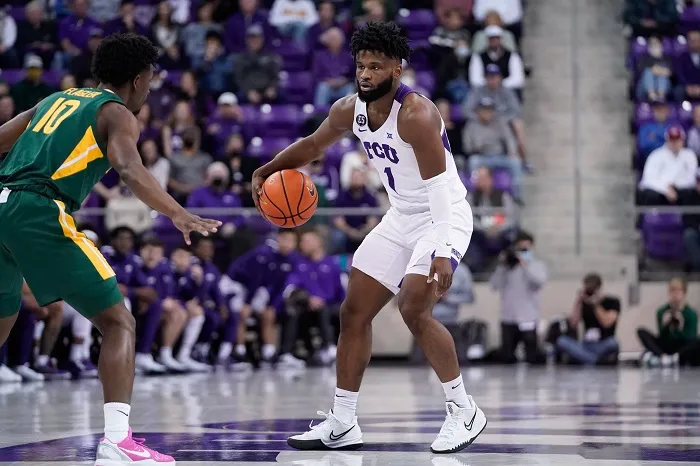 Here is everything you need to know about the TCU Horned Frogs and the Seton Hall Pirates in our TCU vs. Seton Hall Big 12 Tournament men's basketball preview.
NCAA Tournament
South Region – First Round
No. 9 TCU (20-12) vs. No. 8 Seton Hall (21-10), 8:57 p.m. CT, Friday, truTV, Viejas Arena, San Diego, California
How They Got Here:
TCU earned an at-large berth in the NCAA Tournament. Seton Hall earned an at-large berth in the NCAA Tournament.
Winner gets: A second-round game against the winner of the Arizona-Wright State or Bryant game.
Projected starting lineups
TCU: G Mike Miles, G Damion Baugh, G Chuck O'Bannon, F Emanuel Miller, C Eddie Lampkin.
Seton Hall: G Kadary Richmond, F Tray Jackson, G Jared Rhoden, C Ike Obiagu, G Myles Cale.
Players to watch
TCU G Mike Miles: The sophomore made the Heartland College Sports All-Big 12 Second Team after he averaged 15.1 points, 3.5 rebounds and dished out 107 assists in the regular season. He was just named to the National Association of Basketball Coaches District 8 Second Team on Tuesday. He enters the NCAA Tournament averaging 15 points, which ranks fifth in the Big 12 Conference, and 3.9 assists, which ranks sixth. The sophomore scored 20 or more points six times and twice against two of the best teams in the conference, 26 against Baylor and 26 against Texas Tech. If TCU advances past the first round, he'll be a big reason why.
Seton Hall G Jared Rhoden: Rhoden was an All-BIG EAST First-Team selection after a season in which he scored 17.8 points and grabbed 4.6 rebounds per game. While his scoring average has dipped to 15.9 points per game for the season, he has shot 47 percent from the 3-point line in the last five games. This isn't the first time that Rhoden has played in the NCAA Tournament, either. He was part of the Pirates' 2019 NCAA Tournament run.
Key storylines
TCU: TCU is making its eighth NCAA Tournament appearance and its third with head coach Jamie Dixon. But, it's just his second as the Horned Frogs' head coach, you ask? You'd be correct. Dixon made his first NCAA Tournament appearance with TCU way back in 1987 when he was the point guard for the Horned Frogs. That season stands as the Horned Frogs' last NCAA Tournament win. These Horned Frogs were thrown together with a large group of transfers to go with veteran holdover Mike Miles, and TCU found that chemistry in late January, right after a win over LSU in the Big 12-SEC Challenge. Wins over Kansas and Texas Tech late in the season solidified the Horned Frogs for their first tournament appearance since 2018.
Seton Hall: The Pirates will make their 14th NCAA Tournament appearance on Friday, but they've all come since 1988. A year later, in 1989, the Pirates were in the national championship game. Seton Hall is 16-13 all-time in the tournament, but the Pirates haven't been to the Sweet 16 since 2000. The Pirates have been to five of the last six tournaments, but in 2020, when the event was canceled, the Pirates were the BIG EAST regular season champions. That may have been the tourney run that got away. The Pirates are 7-8 against tournament teams this year, but their BIG EAST tournament loss snapped a six-game winning streak.
Fun Fact
This is the first meeting between Seton Hall and TCU, but TCU coach Jamie Dixon has plenty of experience coaching against Seton Hall from his days at Pitt.
Prediction
Seton Hall 71, TCU 69. This is going to be a good old-fashioned BIG EAST slug-fest, with the Pirates slipping away at the end.
You can find Matthew Postins on Twitter @PostinsPostcard.