Big 12 News
Texas Women Beat Fairfield in First Round of NCAA Tournament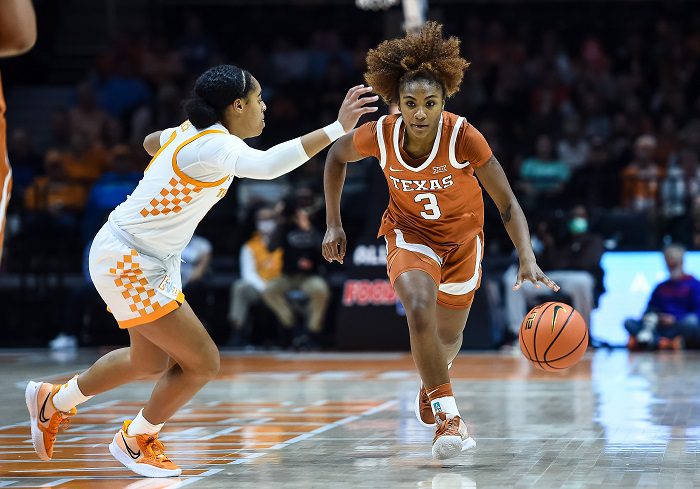 The Texas Longhorns beat the Fairfield Stags, 70-52, in the first round of the NCAA Women's Basketball Tournament in Austin, Texas, on Friday.
The Longhorns (27-6) will Utah in the second round of the Spokane Region on Sunday in Austin.
Texas had a head of steam going into this game, riding a 12-game winning streak and having just won the Big 12 Tournament championship on Sunday, beating Baylor. Texas is trying to get back to the Elite Eight for the second straight tournament and are trying to get to the Final Four for the first time since 2003.
That doesn't leave a lot of time for reflection, according to Texas guard Audrey Warren.
"Yes, we are having fun. No, we don't want to smell the roses because we are not done yet," Warren said on Thursday."
Fun was everywhere for the Longhorns, who played their next-to-last game in the Erwin Center, and their first with the 'March Madness' logo on the court. The women's tournament is allowed to use the 'March Madness' trademark for the first time this season, just one of several changes to bring the women's tournament in equity with the men's.
Texas had a rousing start, but Fairfield was stubborn and made the Longhorns work throughout the second half.
By halftime, Texas had a 39-18 lead as the Stags shot 27.3 percent against the Longhorns' stifling defense after 20 minutes and had no answers.
Fairfield (25-7), making its first NCAA Tournament appearance since 2001, brought a 15-game winning streak into the game. The Stags were the class of the Metro Atlantic Athletic Conference, as was their leading scorer, Lou Lopez-Senechal, who averaged 19.7 points per game entering the contest.
In the second half, Lopez-Senechal, the MAAC Player of the Year tried to throw a scare into the Longhorns, cutting that Texas lead to 10 points late in the third quarter before Texas pushed it back to 15 points by the end of the third quarter.
Lopez-Senechal finished with 17 points for Fairfield, while Rachel Hakes had 10 points and Callie Cavanaugh had 10 points.
Texas had three players finish the game in double figures, with freshman forward Aaliyah Moore coming off the bench with a double-double — 18 points and 10 rebounds. Harmon had 10 points and 11 assists, while forward Lauren Ebo had 10 points and seven rebounds.
You can find Matthew Postins on Twitter @PostinsPostcard.