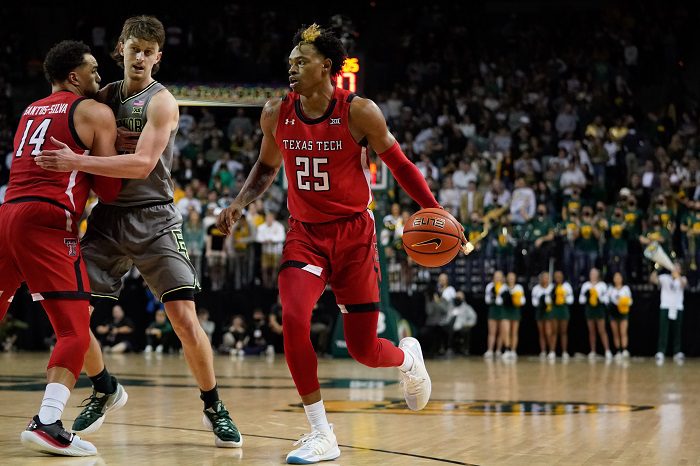 Here is everything you need to know about the Texas Tech Red Raiders and the Montana State Bobcats in our Texas Tech vs. Montana State Big 12 Tournament men's basketball preview.
NCAA Tournament
West Region — First Round
No. 3 Texas Tech (25-9) vs. No. 14 Montana State (27-7) 1:45 p.m. CT, TNT, Viejas Arena, San Diego, California
How They Got Here:
Texas Tech was an at-large selection for the NCAA Tournament. Montana State won the Big Sky Tournament title.
Winner gets: A second-round game against the winner of the game between Alabama and either Rutgers or Notre Dame (First Four).
Projected starting lineups
Texas Tech: F Kevin Obanor, F Bryson Williams, G Adonis Arms, G/F Terrence Shannon Jr., G Davion Warren.
Montana State: G Xavier Bishop, G Tyler Patterson, G Amin Adamu, F/G Abdul Mohamed, F Jubrile Belo.
Players to watch
Texas Tech F Bryson Williams: He's the player that could come up huge for the Red Raiders on the offensive end in this game, and certainly in the tournament. He led the Red Raiders with 13.7 points and 4.3 rebounds per game. He earned All-Big 12 Honors and had one of the biggest games of the season in the league with his 33-point outing against Kansas. The former Fresno State and UTEP player has 2,094 points and 890 rebounds for his NCAA career. Whatever happens in this tournament, this is it for Williams, who is out of eligibility after this season.
Montana State F Jubrile Belo: It's not often that one of a team's best players is from London, England. But, Montana State has an 'English' pipeline. And another of the Bobcats' leading scorers, guard Amin Adamu, is also from England. After two seasons at Lamar Community College, Belo is on his third season at Montana State and playing on his COVID-19 season. He averaged 13 points and 6.8 rebounds per game this season. He isn't just the best player on the Bobcats, he's the best player in the Big Sky, as he was named Most Valuable Player, Defensive MVP and All-Big Sky First Team.
Key storylines
Texas Tech: Coach Mark Adams was the Heartland College Sports Coach of the Year Award and Williams was on the HCS All-Big 12 First Team for the regular season. The Red Raiders fell to Kansas in the Big 12 Tournament title game, but they're well-equipped to make a solid run in this tournament, thanks to their 'no-middle' defense, which has given teams in the Big 12 and beyond fits all season. Offensively, the Red Raiders have become a balanced team, with a half-dozen players averaging at least eight points per game. Texas Tech has reached at least the Elite Eight in two of their last three tournament, and there's a carrot for them if they can win their first three games — a potential Elite Eight showdown with No. 1 Gonzaga, a team that beat Texas Tech earlier this season.
Montana State: Guard Xavier Bishop averaged 13.9 points and Adamu averaged 11.6 points, giving the Bobcats a trio of solid scorers entering the tournament. It's an auspicious occasion for the Bobcats, who are making their first NCAA Tournament appearance in 26 years. The Bobcats have also had one of their best seasons ever. Their 24 regular-season wins are three more than any other MSU team since the team joined the Big Sky. The Bobcats' 27 wins after the Big Sky Tournament are the program's most since 1927, when MSU won 30 games. Their record for most wins in a season was in 1928 and 1929, when the Bobcats won 36 games in each season.
Fun Fact
Texas Tech is 3-1 all-time against Montana State. The loss? Jan. 7, 1995, when the Bobcats won, 90-77, in the only game played in the series at Bozeman, Montana.
Prediction
Texas Tech 77, Montana State 63. Both of these teams can give each other matchup issues due to their personnel. But Tech's defensive prowess is better equipped to handle those matchup issues.
You can find Matthew Postins on Twitter @PostinsPostcard.