Baylor Bears
Baylor vs. North Carolina NCAA Basketball Preview and Prediction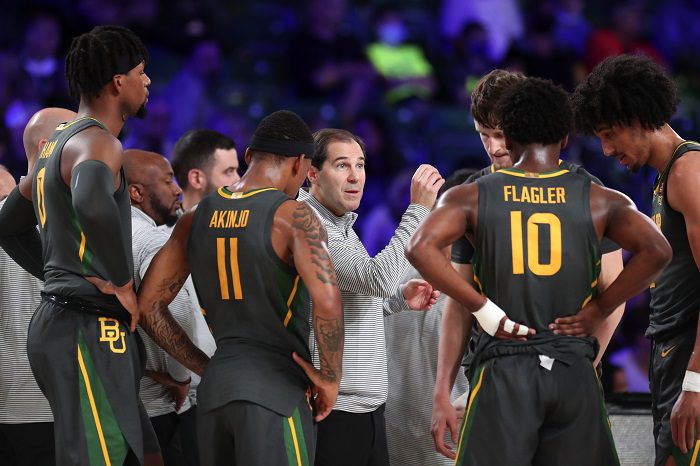 Here is everything you need to know about the Baylor Bears and the North Carolina Tar Heels in our Baylor vs. North Carolina NCAA Tournament men's basketball preview.
NCAA Tournament
East Region – Second Round
No. 1 Baylor (27-6) vs. No. 8 North Carolina (25-9), Saturday, Time and TV TBA
How They Got Here: Baylor was selected as an at-large bid to the NCAA Tournament. North Carolina was selected as an at-large bid to the NCAA Tournament.
NCAA Tournament Results: Baylor: def. No. 16 Norfolk State, 85-49; North Carolina: def. Marquette, 95-63.
Winner gets: A trip to the Sweet 16 next week in Philadelphia.
Projected starting lineups
Baylor: G James Akinjo, G/F Kendall Brown, G Adam Flagler, F Flo Thamba, F Matthew Mayer.
North Carolina: G Leaky Black, G Caleb Love, G RJ Davis, F Armando Bacot, F Brady Manek.
Players to watch
Baylor F Matthew Mayer: The senior forward had five 3-pointers and a career-high 22 points in the victory over Norfolk State on Thursday. He's averaging more points and more rebounds than he ever has in his career, but one could say he's fallen a bit below the expectations some had for him to start this season. Still, he showed what he can do when you get him going early in the game, especially from the 3-point line. When Mayer hits three or more 3-pointers in a game this season, the Bears are undefeated. It doesn't happen often, though, thanks in part to the Bears' offensive balance.
North Carolina F Brady Manek: You know Manek. He used to play in the Big 12. He did four years with the Oklahoma Sooners as one of the most reliable forwards in the conference. Then, after the retirement of coach Lon Kruger, Manek decided to transfer to play for the Tar Heels. Under first-year coach Hubert Davis — who replaced hall-of-famer Roy Williams — he's had his best season, averaging more than 14 points per game. Then, on Thursday against Marquette, Manek came to play — 28 points, 11 rebounds and dominance throughout. The Bears were a thorn in his side when he was at OU. We'll find out if it's personal on Saturday.
Key storylines
Baylor: The Bears are the defending national champions and hoping to extend what is now a seven-game NCAA Tournament winning streak after their first-round win over Norfolk State. Along with Mayer, Jeremy Sochan (15 points), Flo Thamba (14), Adam Flagler (11) and James Akinjo (10) were all in double figures. This is the seventh time Baylor is appearing in the NCAA Tournament in the last eight tournaments. All-time, the Bears are 21-13 in 13 NCAA Tournament appearances, and most of that success has come under head coach Scott Drew. The Bears have gone 18-8 in the tournament under Drew. The Bears got some good news earlier in the week when freshman forward Kendall Brown was cleared to play. Brown started and played for nearly 20 minutes against NSU. But, the Bears will be without guard LJ Cryer, who was ruled out for this weekend before the tournament.
North Carolina: There are few programs more associated with the NCAA Tournament than North Carolina (we call them 'blue bloods' for a reason, you know?). North Carolina is playing in the NCAA Tournament for the 52nd time, the second-most tournament berths all-time. Carolina is 127-48 in the NCAA Tournament, the second-most wins all-time. Carolina is first all-time with 20 Final Fours, second in NCAA history in appearances (52), games (175), wins (127) and winning percentage (.724) and is third in championships (6). We get it. They're good. And they have a team that, despite their seeding, reached the semifinals of the ACC Tournament and has designs on playing in the Sweet 16. Head coach Hubert Davis helped the Tar Heels beat a No. 1 seed back in 1990 when he was a player. The team? Oklahoma.
Fun Fact
North Carolina is playing in its seventh Texas city in the NCAA Tournament (Austin, Dallas, Denton, El Paso, Houston, San Antonio and Fort Worth) and the Tar Heels are now 8-7 in Texas in the Big Dance.
Prediction
North Carolina 78, Baylor 74. Both of these teams played well on Thursday. But Carolina looks deeper and they looked a bit sharper (and we're splitting hairs). Baylor has to light it up from deep, again, to win. I'm just not sure Baylor has a defensive answer for this version of Brady Manek. His game looks elevated this season.
You can find Matthew Postins on Twitter @PostinsPostcard.