Baylor Bears
Big 12 Baseball: Texas Bounces Back While TCU Opens Conference Play With A Win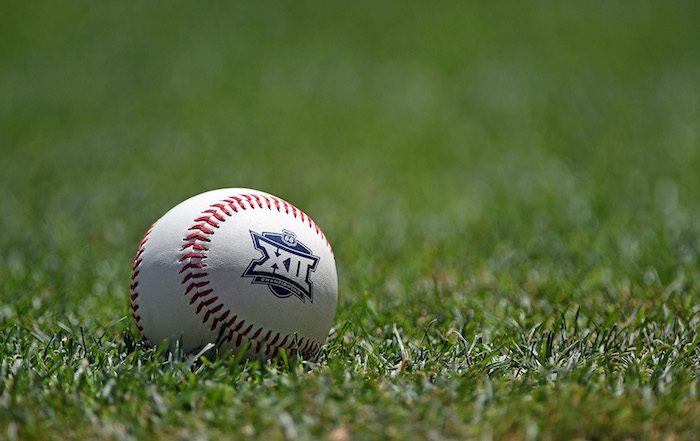 With the MLB still on hold, why not take in some college baseball? We are in the fifth full weekend of the season as all nine Big 12 teams (sorry Iowa State) are back in action on the diamond this weekend. There are several big-time matchups around the conference and here is what happened in the Big 12 on Friday.
Notable Games
#21 TCU: 3 Baylor: 0
Going into the Friday matchup, I knew it was going to be a good pitching battle and it was. TCU's Riley Cornelio pitched eight scoreless innings while Baylor's Tyler Thomas went six full innings and allowed two runs. Tommy Sacco broke the scoreless game in the fifth inning with a thundering solo home run before a wild pitch two innings later gave TCU another run. Then in the eighth inning, David Bishop drove in the final run for the Horned Frogs. While the Frogs were able to get the bats going late, they really should be thanking Riley Cornelio. He was an absolute stud on Friday night.
#2 Texas: 19 Incarnate Word: 2
This game was never close as the Longhorns blew the Cardinals out of the water. Murphy Stehly had a big game with a whopping six RBIs leading the way for Texas. Doulglas Hodo and Eric Kennedy also went yard in the game as well. In the end, it was an easy win for Texas, and I fully expected them to take the series on Saturday when these two meet up again.
Campbell: 8 West Virginia: 6
Things started out great for West Virginia as they jumped out to a 4-0 lead in the third inning. Grant Hussey, Victor Scott, and J.J. Wetherholt all had key hits to get that lead, but it didn't last long. Starting pitcher Michael Kilker struggled early on and his replacement Noah Short also had a tough time on the mound giving up four runs. By the end of the fifth inning, West Virginia found themselves down 8-4. The Mountaineers would make a late push in the game, but it was too little too late.
Other Games
#11 Oklahoma State: 11 Seton Hall: 1
Kansas State: 10 Morehead State: 2
New Orleans: 10 Oklahoma: 7
Schedule Changes
Due to some weather issues, the Kansas/Indiana State game scheduled for Friday night will be moved to Sunday in a doubleheader. Also, Texas Tech's game against Iowa was canceled and instead of a three-game series, the Red Raiders will only play twice this weekend.