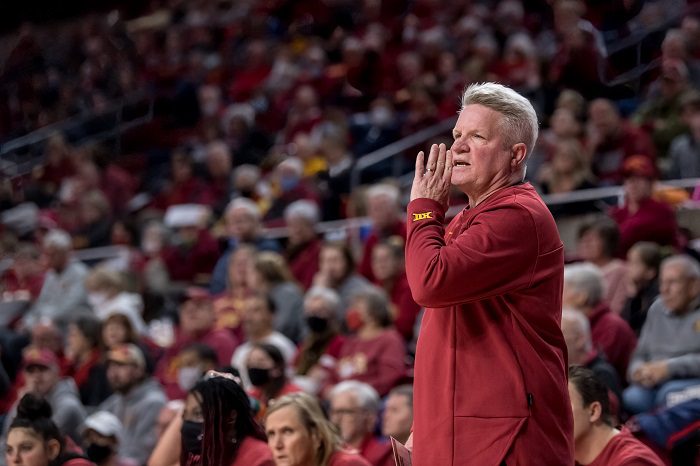 Here is everything you need to know about the Iowa State Cyclones and the Georgia Bulldogs in our Iowa State vs. Georgia NCAA Tournament women's basketball preview.
NCAA Tournament
Greensboro Region – Second Round
No. 3 Iowa State (27-6) vs. No. 6 Georgia (21-9), 7 p.m., Sunday, ESPN2, Hilton Coliseum, Ames, Iowa
How They Got Here: Iowa State was an at-large selection from the Big 12. Georgia was an at-large selection from the SEC.
NCAA Tournament Results: Iowa State: def. UT-Arlington, 78-71 (first round); Georgia: def. Dayton, 70-54.
Winner Gets: A trip to the Sweet 16 in Greensboro, N.C., next week.
Projected starting lineups
Iowa State: G Emily Ryan, G/F Ashley Joens, G Lexi Donarski, F Nyamer Diew, F Morgan Kane.
Georgia: F Javyn Nicholson, C Jenna Staiti, G Sarah Ashlee Barker, G Mikayla Coombs, G Que Morrison.
Player to watch
Iowa State G/F Ashley Joens: This could be the senior's final game at Hilton Coliseum. She hasn't said whether she'll trigger her COVID-19 season or not, but she's focused on trying to get the Cyclones back to the Sweet 16. Her game against UT-Arlington was epic, and necessary. She poured in 36 points and grabbed 15 rebounds as she took 28 shots from the floor and made four 3-pointers. Joens carried the Cyclones on her back on Friday night, and she may have to do it again on Sunday. You know the rest — all-time leading scorer in Iowa State history and second-team All-American. Win or lose, she should take a bow.
Georgia C Jenna Staiti: Georgia likes to work through its 6-foot-4 senior, who put up 19 points and eight rebounds in the first-round win over Dayton on Friday. The Bulldogs are used to getting solid, consistent numbers from the All-SEC selection. She's averaging 15.1 points and 7.8 rebounds this season. She shoots 52 percent from the floor, and the super-senior has plenty of big-game experience to pull from the tough moments in the NCAA Tournament. For her career at Georgia, she has more than 1,000 points, more than 500 boards and more than 250 blocked shots.
Key storylines
Iowa State: The Cyclones had to expend every bit of energy to win against UTA on Friday, with the game in doubt until the final two minutes. What hurt the Cyclones? Their normally-reliable free-throw shooting, which was below 60 percent. Still, the Cyclones dug down and found the higher gear when it mattered. It came down to a couple of 3-pointers by Emily Ryan and Ashley Joens, along with a great drive by Ryan in the final minute, to seal the victory. Iowa State has had NCAA Tournament success, but the Cyclones are looking for their first Sweet 16 bid since 2010. At least the Cyclones have a home-court advantage for this one.
Georgia: Georgia has been one of the most consistent programs in women's college basketball. Georgia is looking for its 21st Sweet 16 appearance with a win on Sunday. Georgia's 20 trips to the regional round are the fourth most nationally behind Tennessee, UConn and Stanford. But, it's been nearly a decade since the Bulldogs got past the second round of the tournament. Along with the win over Dayton, the Bulldogs welcomed back freshman forward Jillian Hollingshead, who played for the first time in a month due to injury. She scored 15 points. That's a big addition for the Bulldogs, who have guard Que Morrison also averaging double figures with 13.9 points per game.
Fun Fact
Georgia has the edge in the all-time series, with the Bulldogs having won all three meetings. But the pair haven't met since 2013. All three meetings have been in the NCAA Tournament.
Prediction
Georgia 71, Iowa State 69. Iowa State has some things to clean up, and I think the Cyclones will do just that. But, Iowa State has had moments this season where their shooting touch has disappeared. This could be that kind of night.
You can find Matthew Postins on Twitter @PostinsPostcard.