Big 12 News
K-State Women Win First NCAA Tournament Game Since 2017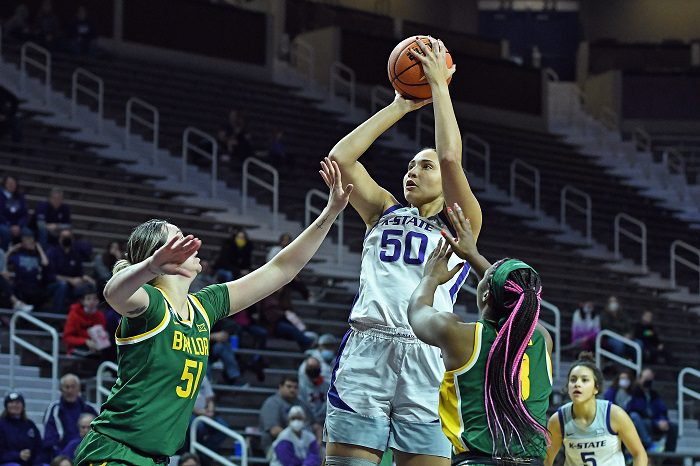 The Kansas State Wildcats won their first NCAA Tournament game since 2017, beating Washington State, 50-40, on Saturday in first-round women's action in Raleigh, N.C.
The Wildcats (20-12) will face the winner of the North Carolina State-Longwood game on Monday in the second round. The Big 12 women are now 5-0 in the first round of the NCAA Tournament and need Oklahoma to win Saturday night to match the Big 12 men's 6-0 start in the first round.
The Wildcats became the sixth Big 12 women's team to reach 20 wins for the season, and the first K-State team to do it since the 2018-19 season, when it won 21 games under head coach Jeff Mittie. Saturday's win was also K-State's first NCAA Tournament win since 2017, when it beat Drake, 67-54, in the first round as a No. 7 seed.
Neither team shot particularly well in the game, as both hovered around 30 percent the entire contest. The Wildcats shot 26 percent and the Cougars shot 25 percent in a game that also featured 30 turnovers. Kansas State offset that with a terrific game at the free-throw line, going 19-for-20 and shooting 86.4 percent.
Washington State (19-11) naturally focused its defensive attention on 6-6 center Ayoka Lee, and for a half that worked. Lee had just six points at halftime, but already had double-digit rebounds. K-State was down 24-17.
But Lee kept working down low and her scoring kept going up. The work of Brylee Glenn also helped. One of K-State's talented freshmen, she hit double-digits in scoring and helped key a 12-1 run for the Wildcats that put them up 31-29 with under three minutes to play in the third quarter. K-State was up 35-33 at the end of the third quarter and kept building from there.
The Wildcats didn't run away with the game, but they held the Cougars off with pesky defense and precise offense. Kansas State was up 46-39 with less than two minutes to play in the game, as the Cougars finished game 0-for-12 from the field.
Lee, the All-Big 12 First Team selection, scored 14 of her 20 points in the second half while going 10-of-12 from the free-throw line. Glenn's 14 points (7-of-8 from the free-throw line) gave the Wildcats a huge pick-up, as the Cougars limited guard Serena Sundell to five points.
Charlisse Leger-Walker had a big game for Washington State, finishing with 20 points. She was the only Cougar who finished in double figures. Her sister, Krystal Leger-Walker, added nine points.
You can find Matthew Postins on Twitter @PostinsPostcard.