Baylor Bears
Baylor's 25-Point Comeback Falls Short, Losing to North Carolina in Second Round of NCAA Tournament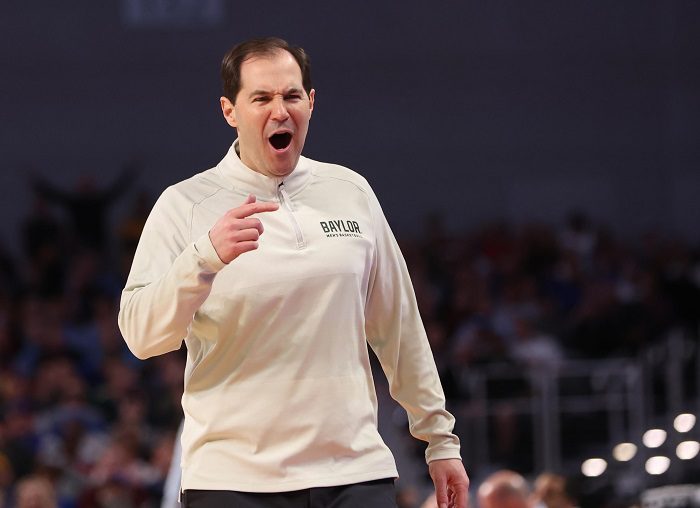 FORT WORTH, Texas — The Baylor Bears' national title defense came to an end on Saturday, but the Bears fought to the bitter end — and even extended it — in an effort to keep it going.
Down 25 points in the second half, the Bears implemented a full-court press and made a furious comeback, only to see it fall short, losing 93-86 to North Carolina in overtime in a second-round NCAA Tournament game.
In overtime, the Bears and Tar Heels played a nip-and-tuck affair, nothing like the frenzied Baylor comeback that led to it. Two Bears fouled out along the way — Flo Thamba and Matthew Mayer.
But it was a circus layup by North Carolina's RJ Davis with 1:18 left — the player that set the Tar Heels on their way to what looked like a blowout victory — that put the game away. Davis made the free throw to give the Tar Heels a six-point lead that Baylor couldn't overcome, in spite of multiple attempts in the final minute. Baylor went without a field goal for the final three minutes of the game, seemingly using up the magic that got the Bears there.
"I'm really proud of their effort and just how they carried themselves all year long," Baylor head coach Scott Drew said. "(Fifteen) and zero, face a bunch of injuries, adversity. We could have gone away, end up winning in conference.
"Same with today, you get down 25, it's easy to fold. These guys don't."
The Bears (27-7) were the No. 1 seed in the East Region and hoping to reach the Sweet 16 in Philadelphia next week. Instead the Bears saw their seven-game NCAA Tournament winning streak come to an end against the No. 8 seeded Tar Heels (26-9), led by former Oklahoma forward Brady Manek. The Bears were the first Big 12 team, men's or women's, to exit the NCAA Tournament.
But the Bears turned a blowout into an instant classic.
North Carolina was up 42-29 at halftime and built up a 25-point lead at one point, 67-42.
Then the fireworks started. First, Manek was ejected after being called for a flagrant two foul while trying to block out Baylor's Jeremy Sochan under the basket. Without Manek, who had 26 points by that point, the Tar Heels lost a player had already put 28 points on Marquette two nights earlier.
Bears head coach Scott Drew then went to a full-court press out of necessity, and it not only created turnovers but it pushed the pace of the game more to the Bears' liking.
"Well, they consistently started to press us, and that bothered us," UNC head coach Hubert Davis said. "It did two things to us: One, it sped us up and made us make uncharacteristic plays; and the other thing, it made us turn the ball over."
Baylor carved together a 20-4 run in just 4:46 to cut UNC's lead to 71-62 with 5:22 left. Adam Flagler's shooting, both from the arc and from the line, was the fuel for the comeback, which gave Baylor fans hope that the Bears could put together a miracle comeback.
The Bears kept finding ways to stay in it. A Mayer 3-pointer cut the lead to six points. He was later hurt but returned. That lead hovered around six points until Jeremy Sochan's bank 3-pointer with 28 seconds left cut UNC's lead to 3.
North Carolina had a chance to ice it. But Armando Bacot missed two free throws and Baylor rebounded. Bears guard James Akinjo drove to the basket, drew a foul and scored with 13 seconds left to cut North Carolina's lead to one point. He then made the free throw to tie the game at 80-all and send the arena into a frenzy.
North Carolina's chance to win the game in regulation fell short, leading to overtime.
Davis, who hit five 3-pointers in the game for North Carolina, finished with 30 points. Manek also had four 3-pointers. Bacot had a mystifying game. He had a double-double with 15 points and 16 rebounds. But his 7-of-15 shooting at the free-throw line kept the door open for Baylor.
Flagler led Baylor with 27 points and made three of the team's nine 3-pointers. Flagler played a key role in the comeback, as did Akinjo, who finished with 20 points. Sochan, whose bank 3-pointer sent the game to overtime, had 15 points, while Mayer finished with 10 points.
You can find Matthew Postins on Twitter @PostinsPostcard.