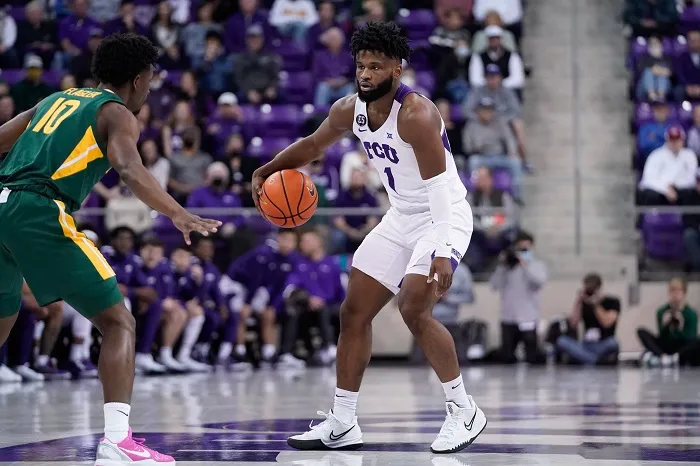 The Arizona Wildcats needed overtime to defeat the TCU Horned Frogs, 85-80, on Sunday night in the second round of the NCAA Tournament in San Diego, California.
Arizona (33-3) will face No. 5 seed Houston in the Sweet 16 of the South Region in San Antonio next week. The other matchup in that Sweet 16 is Michigan against Villanova.
TCU (21-13) saw its upset bid of the No. 1-seeded Wildcats come to an end in overtime, as Arizona's top player, Bennedict Mathurin had a huge overtime and finished with 30 points. But it was a Christian Koloko dunk in mid-air, as he cleaned up a Mathurin missed 3-pointer, with 11 seconds left in overtime that iced the game. Koloko had a career-high 28 points, along with 12 rebounds. The pair combined for Arizona's last 15 points.
The No. 9 seeded Horned Frogs led by as much as eight at one point and had a chance to win the game in regulation, on a play that will be seen as controversial, especially by Horned Frogs fans, who were hoping they could join Kansas, Iowa State and Texas Tech in the Sweet 16.
With 13 seconds left TCU guard Mike Miles brought the ball up. He was trapped on one side of the court by two Arizona players, and as he tried to dribble back to the middle of the floor he appeared to draw contact and fell to the ground, losing the ball. Arizona's Dalen Terry picked up the ball and went to the other end for what could have been a game-winning dunk, but he couldn't beat the game clock and the game went to overtime.
Miles was one of three Horned Frogs with 20 or more points. He finished with 20 points and played most of the second half and overtime with four fouls. Chuck O'Bannon finished with a career-high 23 points, while center Eddie Lampkin had a career-high 20 points, along with 14 rebounds. Lampkin and the Horned Frogs outrebounded Arizona, 48-44, and 20-14 on the offensive glass.
TCU fell behind 67-58 as Arizona went on an 8-0 run and the Horned Frogs went 0-for-11 during that stretch. But, after that, O'Bannon hit 2-of-3 free throws after being fouled on a 3-pointer, O'Bannon hit a 3-pointer from the corner, Lampkin hit a baby hook, Micah Peavy hit a free-throw and Miles drove to the basket for a lay-up to complete at 10-0 run. That gave TCU a 68-67 lead with 3:51 to play at the last media time out.
TCU started the final four minutes with the ball due to an Arizona turnover. Miles drove to the basket and drew a foul. Miles made both to put TCU up, 70-67.
Arizona finally ended their drought at TCU's 12-0 run with a 3-pointer by Dalen Terry with 2:43 left, tying the game at 70-70.
On the next possession, Lampkin drove from the free-throw line to the basket, drew contact from Koloko and made the basket to draw a foul with 2:16 left. He made the free throw and TCU was back up by two.
At the other end, Arizona ended up with a shot-clock violation and TCU went to the other end as Miles drove to the basket, missed and Lampkin rebounded, drawing a foul. He made the second free throw and TCU was up 73-70 with 1:14 left when Arizona took a time out.
Arizona wasn't done, though. Mathurn hit a back-door dunk with 1:06 left to cut TCU's lead to one. At the other end. Lampkin grabbed another offensive rebound and put it back with 36 seconds left to push the lead back to three. But, Mathurin tied the game with a long 3-pointer from the March Madness logo with 13 seconds left, followed by an Arizona time out.
You can find Matthew Postins on Twitter @PostinsPostcard.