Big 12 News
Kansas loses to Stanford in NCAA Tournament's Second Round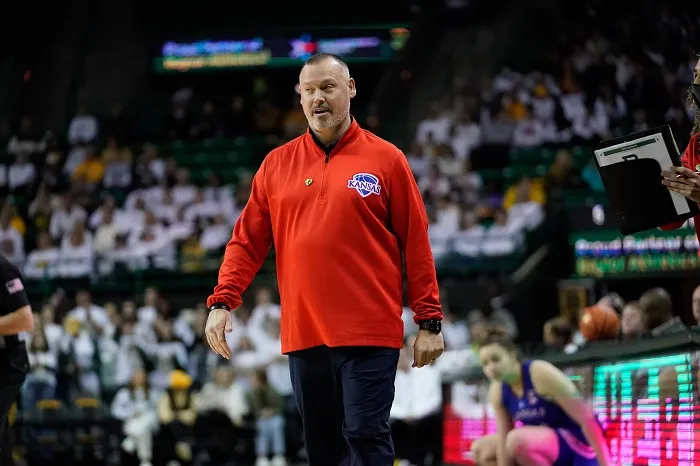 The Kansas Jayhawks lost to the Stanford Cardinal, 91-65, in the second round of the NCAA Women's Tournament on Sunday in Palo Alto, Calif.
No. 1-seeded Stanford (30-0) advances to the Spokane Region Sweet 16, which begins next week.
Kansas (21-10) saw its watershed season come to an end. For the first time since 2013, the Jayhawks won 20 or more games, reached the NCAA Tournament and won an NCAA Tournament game. Along the way the program defied preseason expectations, finishing fifth in the Big 12 after being picked to finish last in the preseason poll. Plus, head coach Brandon Schneider signed a contract extension.
Kansas' loss made the Big 12 .500 for the day in the second round. Texas defeated Utah and Iowa State defeated Georgia to secure berths in the Sweet 16. Baylor lost to South Dakota in one of the biggest upsets of the tournament to this point.
Texas is in the same region as Stanford and the two teams could meet in the Elite Eight. Texas beat Stanford earlier this season.
Kansas State and Oklahoma each take a shot at the Sweet 16 on Monday. Kansas State faces No. 1 seed NC State, while Oklahoma hosts Notre Dame.
Kansas was upset-minded going into its second-round matchup against the defending national champions. The No. 8-seeded Jayhawks were coming off a dominant win over Georgia Tech on Friday, and for a half Kansas looked like a team that could pull off a massive upset and go to its first Sweet 16 since 2013.
Kansas was down 33-31 at the break. At the heart of the first half for Kansas was forward Ioanna Chatzileonti, who had nine first-half points as she helped Kansas match Stanford in the paint, as Kansas had 14 points in the paint to Stanford's 16. Both teams had 10 turnovers. Stanford's Lexie Hull and Cameron Brock both had a good first half, combining for 20 of Stanford's 33 points. The Cardinal's offense wasn't firing as it was in its first-round win.
But in the third quarter Stanford pull away. Hull kept pouring in the points, as she had 23 by the time Stanford built a 56-44 lead with 2:34 left in the third quarter. Kansas shot better than 50 percent in the quarter, but Stanford started lighting it up from the 3-point line, which offset a surge in turnovers against Kansas' defense. By the end of the third quarter Stanford was up, 65-46, and fully in control. Stanford outscored Kansas 32-15 in that quarter.
Hull ended up with an incredible 36 points, which included six 3-pointers. Brink ended up with 13 points and 12 rebounds.
Chatzileonti finished with 11 points. Zakiyah Franlkin led Kansas with 13 points.
You can find Matthew Postins on Twitter @PostinsPostcard.