Baylor Bears
South Dakota Stuns Baylor In NCAA Women's Second Round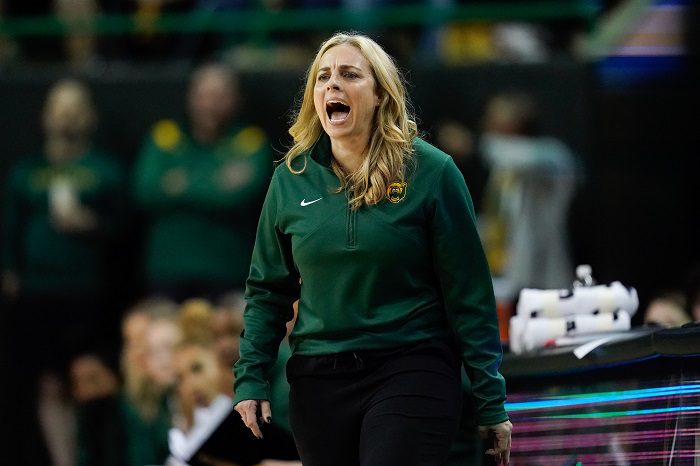 The Baylor Bears lost to the South Dakota Coyotes, 61-47, to exit the NCAA Women's Tournament in the second round on Sunday in Waco, Texas.
It's the first time the Bears won't be in the Sweet 16 since the 2008 season.
It was one of the biggest upsets in the women's tournament to this point. The Bears (28-7) had won their last 67 non-conference games at the Ferrell Center, a streak that included NCAA Tournament games. But, South Dakota (29-5), coming off an upset of Ole Miss two nights ago, did a defensive job on the Bears.
Entering the game the Coyotes held opponents 14 points under their season average. On Sunday the Coyotes held Baylor 30 points under its 77 points per game average for the season.
South Dakota had a 13-point lead at the end of the third quarter and the Coyotes had to make it stick with defense because they went the first seven minutes of the fourth quarter without a point. Even then, Baylor could only cut the lead to 49-42 with a 6-0 run with 3:12 left, the last points coming on a lay-up by Sarah Andrews. The Bears' own shooting owes kept them from capitalizing on the Coyotes' scoring drought.
But, seeing the lead cut to seven points seemed to jar the Coyotes, as Maddie Krull scored her first points of the game, a jumper and a free throw, to end the Coyotes' scoring drought and push the lead back to 10 points with more than two minutes left.
At that point, Baylor had no choice but to keep fouling and the Coyotes hit their free throws to secure the win.
South Dakota never trailed in either game in Waco, as they advance to the Sweet 16 for the first time in program history.
Baylor was in trouble from the start, as the Coyotes took a 16-4 first-quarter lead and led by 11 at halftime. The Coyotes shot 50 percent from the floor and 60 percent from the 3-point line, making 6-of-10 from distance.
Combined with that was Baylor's shooting struggles. The Bears shot 31 percent for the game and consensus All-America forward NaLyssa Smith had 10 points, and just two at halftime. Center Queen Egbo was the only other Bear in double figures with 13 points. The Bears shot 5-of-26 from the 3-point line.
South Dakota's Hannah Sjerven led the Coyotes with 16 points and four rebounds before fouling out. Chloe Lamb had 15 points and Liv Korngable added 11 points. Lamb was the Coyotes' best shooter from deep, going 3-for-6.
You can find Matthew Postins on Twitter @PostinsPostcard.