Big 12 News
2022 NCAA Tournament: How to Watch, Tipoff Times, TV Announcers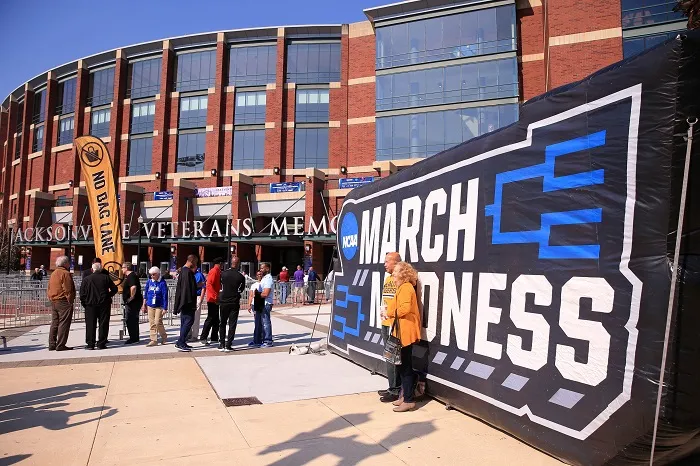 The Big 12 sent six teams to the Big Dance and three of them made it past the first weekend and into the Sweet 16.
Kansas, the winner of the Big 12 tournament and co-champion of the regular season, was able to hang on against Creighton to advance.
Texas Tech was as dominant as anyone in their first-round win over Montana State but faced a pesky Notre Dame team in the Round of 32 that pushed them to the brink.
Then, you have one of the Cinderella stories of the tournament thus far, as Iowa State has bested six-seed LSU and three-seed Wisconsin in back-to-back games.
Overall the Big 12 has fared well in March Madness, but how will things go in the Sweet 16? Kansas faces a stout Providence team, Texas Tech and Duke square off in the highest seed matchup this round, while Iowa State and Miami will be the only battle between double-digit seeds.
Here is how you can check out each of the remaining games in the tournament, what time they will tip-off, and who will be on the call.
Sweet 16 Matchups (Big 12 Games)
(3) Texas Tech vs. (2) Duke
Date/Time: Thursday, March 24; After Conclusion of Arkansas vs. Gonzaga
Location: San Francisco
Network: CBS
Announcers: Jim Nantz, Bill Raftery, Grant Hill, Tracy Wolfson
(4) Providence vs (1) Kansas
Date/Time: Friday, March 25 @ 6:15 p.m. CT
Location: Chicago
Network: TBS
Announcers: Kevin Harlan, Dan Bonner, Reggie Miller, Dana Jacobson
(11) Iowa State vs. (10) Miami
Date/Time: Friday, March 25; After Conclusion of Providence vs. Kansas
Location: Chicago
Network: TBS
Announcers: Kevin Harlan, Dan Bonner, Reggie Miller, Dana Jacobson
Other Sweet Sixteen Matchups
(4) Arkansas vs. (1) Gonzaga
Date/Time: Thursday, March 24 @ 6:00 p.m. CT
Location: San Francisco
Network: CBS
Announcers: Kevin Harlan, Dan Bonner, Reggie Miller, Dana Jacobson
(11) Michigan vs. (2) Villanova
Date/Time: Thursday, March 24 @ 6:15 p.m. CT
Location: San Antonio
Network: TBS
Announcers: Brian Anderson, Jim Jackson, Allie LaForce
(5) Houston vs. (1) Arizona
Date/Time: Thursday, March 24; After Conclusion of Michigan vs. Villanova
Location: San Francisco
Network: CBS
Announcers: Kevin Harlan, Dan Bonner, Reggie Miller, Dana Jacobson
(15) St. Peter's vs. (3) Purdue
Date/Time: Friday, March 25 @ 6:00 p.m. CT
Location: Philadelphia
Network: CBS
Announcers: Ian Eagle, Jim Spanarkel, Jamie Erdahl
(8) North Carolina vs. (4) UCLA
Date/Time: Friday, March 25; After Conclusion of St. Peter's vs Purdue
Location: Philadelphia
Network: CBS
Announcers: Ian Eagle, Jim Spanarkel, Jamie Erdahl