Big 12 News
Big 12 Baseball Players of the Week: Murphy Stehly, Riley Cornelio, Josh Nicoloff Earn Honors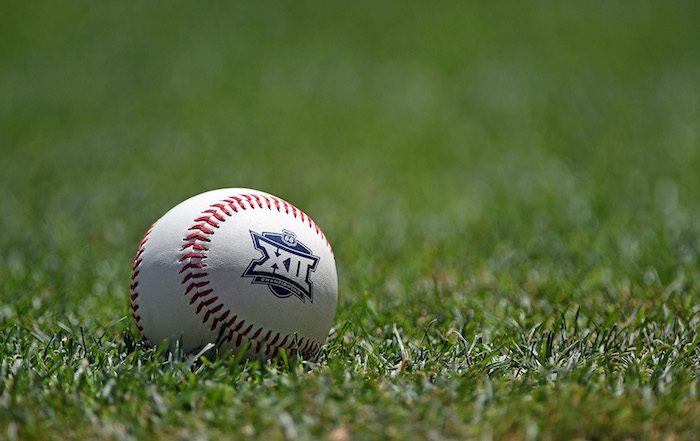 We are now through five weekends of baseball, and the standings are starting to come into view as the top teams in the conference start to separate themselves from the pack ahead of conference play kicking off this weekend.
There are still four Big 12 teams in the top 25, the same teams that were there at the beginning of the year, and those schools went a combined 12-2 over the weekend.
While there were plenty of great performances around the diamond, it is time to highlight the standout performances as the Big 12 Conference announced their Players of the Week.
Texas' Murphy Stehly (Player), TCU's Riley Cornelio (Pitcher), and Kansas State's Josh Nicoloff (Newcomer) were named Big 12 Player, Pitcher, and Newcomer of Week, based on their performances this weekend.
Player of the Week – Texas Infielder, Murphy Stehly
Stehly had a monster weekend, hitting .545 with four home runs, 14 RBI, and had at least three hits in three of Texas' five games last week. His three-homer game on Sunday was just the sixth in Texas' history and helped the Longhorns win their fourth straight. In UT's first game against IWU, Stehly had four hits that drove in six runs. In five games last week, Stehly had an on-base percentage of .615 and 1.182 slugging percentage, recording at least one hit in all five games.
Pitcher of the Week – TCU RHP, Riley Cornelio
Riley Cornelio earned the honors of Pitcher of the Week on Friday night against Baylor when he pitched 8.0 innings in the Horned Frogs 3-0 victory over the Bears. In eight innings, Cornelio allowed just two hits and matched his career-high of seven strikeouts. Cornelio was clutch all night long, as he retired the last 10 batters that he faced and allowed just four base-runners in his time on the mound.
Newcomer of the Week – Kansas State Infielder, Josh Nicoloff
Josh Nicoloff now has a hit in each of the last 12 games, batting .467 with two homers and eight RBI in the last four. His three-run homer in the seventh inning on Sunday gave K-State their third win over Morehead State on the weekend and their eight in a row, the longest streak in the Big 12. Nicoloff also went 3-5 against Omaha, driving in a season-high four runs with a double and a home run. He finished the week with a .556 on-base percentage and a 1.067 slugging percentage.