Baylor Bears
Big 12 Softball Has Strong Weekend Ahead of Conference Play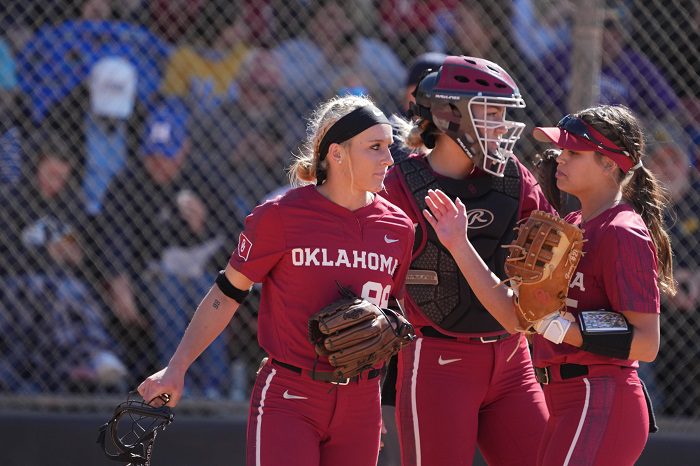 The Big 12 closed out their non-conference portion of the 2022 softball season strong, going 24-4 as a conference over the weekend.
The top three teams in the conference, Oklahoma, Oklahoma State, and Texas, went a combined 12-0 on the weekend, most notably Texas sweeping the 18th-ranked LSU Tigers who were fresh of a series win over No. 4 Alabama.
Texas has now won 5 straight games against, all against ranked opponents, and haven't lost a game in 11 tries. Their "resurgence" has been due to sophomore Estelle Czech emerging as an ace of sorts, with a 1.63 ERA and an 8-1 record in the circle. Behind her, Sophia Simpson and Hailey Dolcini have become reliable as well with ERAs just under 3.00. Janae Jefferson is getting some much-needed help for the Longhorns offensively as well, as there are now six players in the rotation that are batting .326 or better. Texas is starting to heat up right ahead of conference play, and that's bad news for the team they open up with on April 1: Iowa State.
The Lady Cyclones went 4-1 on the weekend, with an inexplicable 4-3 loss to Pacific marring their weekend record. ISU now sits 19-10 and sitting at fourth in the Big 12 Standings this week. Mikayla Ramos continues to be one of the hottest bats in the country, currently tied for second in the country with 12 home runs. Pitching has been the limiting factor for this team, and it will be tougher when they face teams like Texas or Oklahoma, who is swinging the bat like no one else in the country right now.
The Sooners' dominance of this sport in 2022 is getting to be ridiculous and has many asking if this is the best team EVER. Currently, Oklahoma leads the country in ERA (.74), Batting Average (.379), Home Runs Per Game (2.40), On Base Percentage (.496), Scoring (9.30 PG), and Slugging Percentage (.746). Just this weekend, OU scored 64 runs and allowed just two; that's more runs than 46 D-I programs have scored all year. Jordy Bahl threw a no-hitter against Iowa yesterday and her offense added 20 runs, including six home runs. The Sooners have now won by run rule in 21 of 25 games; it doesn't get much more dominant than that.
Oklahoma State also had a solid weekend, going 4-0 against the likes of Wichita State and Kansas City in dominant fashion with a run-ratio of 35-4. Kelly Maxwell's record remained unblemished and her ERA of 1.21 is looking good over nearly 70 innings of work. If Oklahoma State hopes to break into the upper echelon of teams in the coming weeks, they are going to need more at the plate from names like Kiley Naomi and Haley Busby. Their dip in production has made this lineup a shell of what it was last season and they need to find their groove before facing teams like OU and Texas. Still yet, a 21-6 record is hard to ignore and this team continues to be a dangerous one if they go on a streak.
Texas Tech is on the second-longest winning streak in the conference at nine games and has looked good doing it. They have faced team that they should be beating, that is true, but this team seems to be well removed from the miss it was losing 10 of 11 earlier this year. Payton Jackson and Carson Armijo are leading the way at the plate, while Kendall Fritz has amassed an 11-4 record in the circle over 85 IP. This team is streaky, no doubt, but they can give anyone in the conference trouble on a good day, and if they can figure out how to stack good days together this could be an entertaining team to follow.
Baylor had a so-so weekend going 2-1 against McNeese State while Kansas had a mediocre showing in the Rock Chalk Challenge, dropping both games to Tulsa but beating South Dakota twice. With Texas Tech surging and Baylor falling, these two teams could be the bottom of the pile in the Big 12 if they can't find a way to turn it around. Baylor currently sits at 15-10, but has a three-game series with Oklahoma this weekend. Kansas is 10-15 and draws Texas on Friday, Saturday, and Sundy. It looks like another rough week ahead for the Bears and Jayhawks.