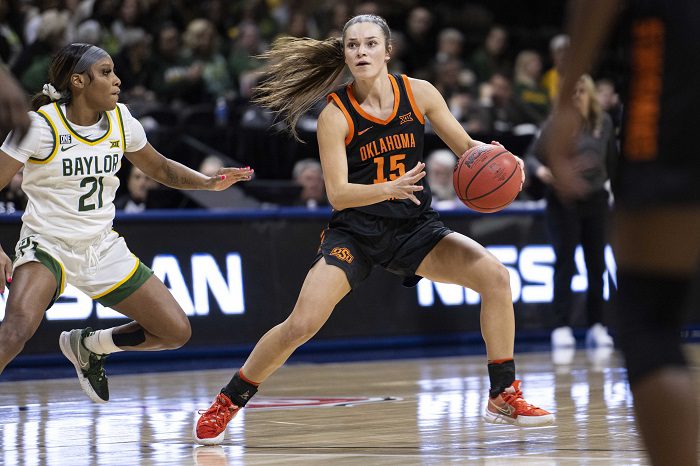 The Oklahoma State Cowboys' women's basketball season is done. Here are five thoughts about the 2021-22 season and what's ahead for the basketball program.
The Season
The Cowgirls were coming off an NCAA Tournament appearance, but by the end of January they were looking up at just about everyone in the Big 12 standings. The team never came together. A COVID-19 pause in late December basically derailed the opportunity for two additional tune-up games before Big 12 play, and the Cowgirls seemed sluggish out of the gate. OSU won just nine games, and at one point lost eight straight. The Cowgirls did send their coach out with a win in the Big 12 Tournament's first round over Texas Tech, before falling to Baylor. But it was an otherwise forgettable season that had much higher goals.
Who's Leaving?
Well, head coach Jim Littell is done after more than a decade with the program. He took over after the death of his boss, Kurt Budke, and helped the Cowgirls win more than 200 games and reach the NCAA Tournament six times. OSU has just three seniors on the roster, but one is a starter — Kassidy De Lapp. The other two are Brittany Reeves and Abbie Winchester. But gone isn't always 'gone' these days. De Lapp, a center, has a COVID season to tap into.
Who's Coming Back?
As of this writing, everyone else. That's four starters, including top scorers like guard Lauren Fields (15.4 points), guard Lexy Keys (10.1 points) and forward Taylen Collins (8.7 points, 6.9 rebounds). Micah Dennis (3.8 points), the fifth starter, is set to return, too. Whoever takes over this job has talent to work with immediately, and talent to develop down the road. If De Lapp chooses to come back, the Cowgirls would be the rare team to have a complete starting lineup returning. Macie James, who averaged nearly five points per game, should return, too. Of course, with the transfer portal and a new coach, this could change fast. As of this writing, there were no known changes. And, De Lapp hadn't announced a decision.
Who's Coming In?
Well, let's focus on the new head coach, Jacie Hoyt. OSU poached her from UM-Kansas City on March 20. She turned around a program that was well under-.500 with the six coaches that preceded her into a winning program (84-61) in five seasons and a trip to the postseason. She knows the Big 12 as an assistant coach under Kansas State boss Jeff Mittie. She played the game at Wichita State. She's a Kansas native. She also recruits the same areas the Big 12 already recruits. Her teams at UMKC shoot the 3-pointer and like to score. She also shares something in common with men's coach Mike Boynton Jr. — youth. Boynton was in his mid-30s when he took the OSU job (he just turned 40). Hoyt is 34. OSU is hoping Hoyt's credentials makes the program attractive to recruits, transfers and the current roster.
What to Watch For
The coaching search ended fast. So, the next few weeks will likely be a blur for everyone in Stillwater, as Hoyt evaluates the roster — and the talent evaluates Hoyt. Building around Fields, Keys and Collins would be a smart move for Hoyt, assuming the trio will stay. The Cowgirls have enough wiggle room to add some talent, and we'll see by the signing window in April how much of an impact Hoyt's hire has on the future of the program.
You can find Matthew Postins on Twitter @PostinsPostcard.