Big 12 News
Kansas State Hires Jerome Tang as Next Basketball Coach, Lands Six-Year Contract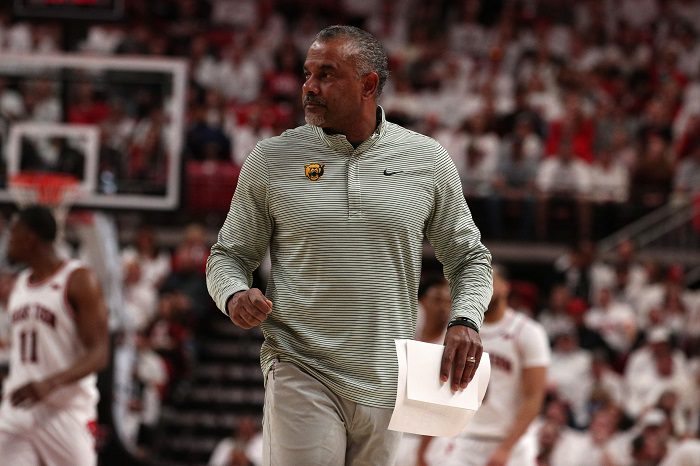 The Kansas State Wildcats are hiring Baylor associate head coach Jerome Tang as their new head coach, with an official announcement coming out on Monday afternoon.
Tang replaces Bruce Weber, who resigned as Wildcats head coach after they lost their first-round game in the Big 12 Tournament. Weber was with the Wildcats for a decade.
Tang will be trusted with trying to get the Wildcats back to the NCAA Tournament, which they've failed to do the last three seasons.
Tang agreed to a 6-year contract and will be paid $2.1 million in 2022-23 and will receive a $100,000 base salary increase each year remaining on the contract ($2.2 million in 2023-24, $2.3 million in 2024-25, $2.4 million in 2025-26, $2.5 million in 2026-27 and $2.6 million in 2027-28).
In a statement, Tang said, "I am beyond excited to be the next head basketball coach at Kansas State," said Tang. "Having the opportunity to build on a program with a rich basketball history at a prestigious university is truly a blessing. We look forward to bringing an exciting style of basketball to K-State while helping our student-athletes succeed on the court and in life. My family and I can't wait to get to Manhattan and form deep relationships with our students, former players, alumni and Wildcat fans everywhere. We look forward to making the Octagon of Doom the best home court advantage in the country!"
This is Tang's first head-coaching job at the college level, but he's familiar with the Big 12 after nearly two decades as Scott Drew's lead assistant at Baylor. In fact, Tang was one of Drew's first hires when he arrived in 2003.
Tang supported Drew and the Bears during the one of the most incredible rebuilding jobs in college basketball history, culminating in the Bears' national championship last April. The Bears' title defense ended with a second-round loss to North Carolina in the NCAA Tournament on March 20.
He is widely regarded as one of the best assistant coaches in the country and is credited with developing Bears into NBA-level talent and with running Baylor's defensive sets. While he has never been a head coach at the college level, he has served as Baylor's interim head coach for four games. All four were Baylor victories. Two came in 2020 when Drew missed two games when he came down with COVID-19. The other two were the first two games of the 2012-13 Big 12 season.
Before Baylor, Tang was a head coach at Heritage Christian in Waco. He led the private-school power to four state championships and coached a player, Cedrick Hensley, who scored 101 points in a single game.
His program produced Division I talent that included Hensley (Houston), Vakeaton "Von" Wafer (Florida State), Elijah Miller (Houston), Marlon Pompey (Texas A&M), Lamar Hurd (Oregon State), Tim Mayes (Richmond) and Tyler Jones (St. John's). Wafer later became a second-round NBA Draft pick.
You can find Matthew Postins on Twitter @PostinsPostcard.