Big 12 Basketball
Kansas State vs. NC State NCAA Women's Basketball Preview and Prediction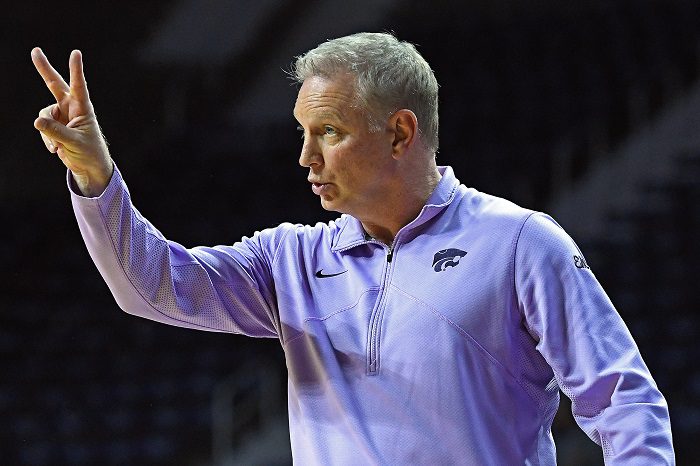 Here is everything you need to know about the Kansas State Wildcats and the NC State Wolfpack in our Kansas State vs. NC State NCAA Women's Tournament preview.
NCAA Tournament
Bridgeport Region – Second Round
No. 9 Kansas State (20-12) vs. No. 1 NC State (30-3), 3 p.m. CT, Monday, ESPN, Reynolds Coliseum, Raleigh, NC
How They Got Here: Kansas State received an at-large bid out of the Big 12. NC State won the automatic bid from the ACC.
NCAA Tournament Results: Kansas State: def. Washington State, 50-40 (first round); NC State: def. Longwood, 96-68 (first round).
Winner Gets: A trip to the Sweet 16 next week in Bridgeport, Conn.
Projected starting lineups
Kansas State: C Ayoka Lee, G Serena Sundell, G Brylee Glenn, G Jaelyn Glenn, G Emilee Ebert.
NC State: G Raina Perez, G Kai Crutchfield, F Jakia Brown-Turner, F Kayla Jones, C Elissa Cunane.
Players to watch
Kansas State F Ayoka Lee: Lee is one-half of the matchup that everyone will be talking about heading into this game (the other half is a few lines below). Lee put together a slow, but steady game, against Washington State, ultimately finishing with 20 points, 15 rebounds and an assist. As one might expect, Washington State paid plenty of attention to the 6-foot-6 center. By the fourth quarter, Lee figured it out. The country knows who she is now, after her 61-point game in January, a new Division I record for points in a single game. She's an All-American. She's the first player in K-State history to have 675 or more points, 300 or more rebounds and 90 or more blocks in a season. She's also the only player in the nation to average 20 or more points, 10 or more rebounds and 3 or more blocks. I mean, what else is there to say?
NC State C Elissa Cunane: The 6-foot-5 center, like Lee, has been a big part of the women's landscape this season. The All-American is averaging 13.8 points and 7.7 rebounds per game, and she's coming off a 13-point, seven-rebound effort against Longwood on Saturday. She's one of the few players in ACC history to be the Most Outstanding Player of the ACC Tournament twice in her career. Don't send her to the line, either. She's NC State's all-time leader in made free throws. So, naturally, everyone is looking forward to this. But, the thing is, the pair actually squared off in November in the preseason NIT. NC State won that game, 90-69. Cunane had 18 points, six rebounds and two steals that night. Lee? She had 19 points, 11 rebounds and five blocked shots.
Key storylines
Kansas State: Kansas State's improvement over last season is now 11 wins after beating Washington State. While Lee had a fine game, freshman Brylee Glenn was key to the 11-2 run in the third quarter that helped the Wildcats put some distance between themselves and the Cougars. WSU paid plenty of attention to K-State guard Serena Sundell, who had just five points. Expect her to have a bounce-back game on Monday. The last time the Wildcats improved by this many games from season to season was their 2001-02 season, which ended in the Sweet 16. The Wolfpack look like a big test on paper, and they are. But K-State has already faced the Wolfpack, along with South Carolina, Baylor (twice) and Texas (twice). Kansas State is used to playing big-time teams.
NC State: The program is now back to being the class of the ACC. The Wolfpack have already set records for highest season-ending AP ranking (No. 3) and most wins in a season (30). A win on Monday would put the Wolfpack in the Sweet 16 for the fourth straight season, give the Wolfpack their 29th NCAA Tournament all-time and extending their winning streak to 12 games this season. Cunane is one of NC State's focal points, but she's far from the only talented player. Much of that talent can kill you from the 3-point line. How good are the Wolfpack from distance? Four players are shooting at least 35 percent from the arc — Kai Crutchfield, Kayla Jones, Raina Perez and Jakia Brown-Turner. Only 10 other teams in Division I can boast that, and the Wolfpack are one of only two Power 5 teams that can say that, too.
Fun Fact
Entering the game NC State is No. 20 all-time in women's college basketball wins with 996. Which team is directly ahead of the Wolfpack? Why, Kansas State, which has 998.
Prediction
NC State 78, Kansas State 66. Kansas State is a much better team than it was in November. But NC State's combination of Cunane and its 3-point shooters is going to allow the Wolfpack to move on.
You can find Matthew Postins on Twitter @PostinsPostcard.