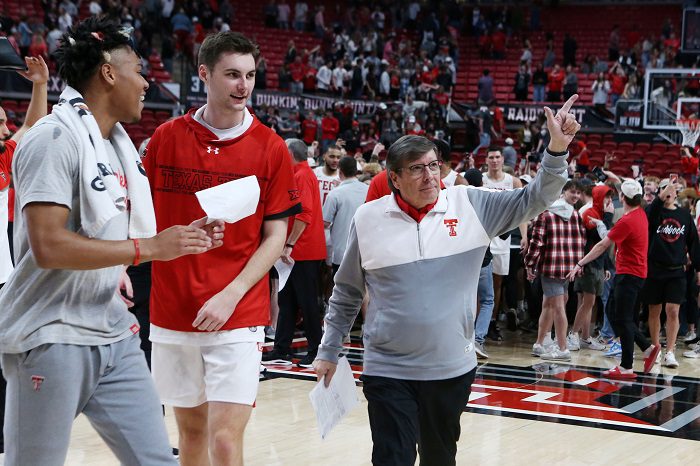 After a fantastic year in 2021-22, first-year Texas Tech head coach Mark Adams has been named a finalist for the 2022 Werner Ladder Naismith Men's Coach of the Year Award.
Texas Tech was supposed to take a step back after Chris Beard did the unthinkable last April and left to be the head coach of the Texas Longhorns.
Tech had made it to three straight tournament appearances under Beard, including a run to the Final Four in 2019 that ended with Texas Tech falling in the National Championship game.
Then, Mark Adams was promoted internally after spending five seasons with the Red Raiders as an assistant coach under his predecessor. This team was supposed to be good, but making it out of the first weekend of the NCAA Tournament when you began the season unranked? Not likely.
All Adams has done since he took over is lead his team to a 27-9 record through the toughest conference in America (18-0 record at home), won AP Big 12 Coach of the Year, and brought Texas Tech to the Sweet 16 thanks to the top defense in the country. Adams' squad plays hard for 40 minutes and that's why they have been successful this season, but their year isn't over yet.
The Red Raiders have a chance to get to the Elite Eight in Adam's first year, and they will have to go through Coach K's Blue Devils to get there. It should be an entertaining game and the Red Raiders have more than a fair shot of coming out the victors. In fact, Texas Tech is favored in that game by one point.
Adams certainly deserves the recognition of being among the best coaches in the sport this year and now he is. He is joined by Providence head coach Ed Cooley, Wisconsin head coach Greg Gard, and Tommy Lloyd, Arizona's first-year head coach.
If you'd like to vote for Adams, you can do so here and are encouraged to, as the fan vote will make up five percent of the total tally. The winner will be announced on Sunday, April 3, at the Naismith Awards Brunch during the Final Four in New Orleans.