Big 12 News
Mike Gundy: College Football Playoff Will 'Eventually' Expand to Eight, Not 12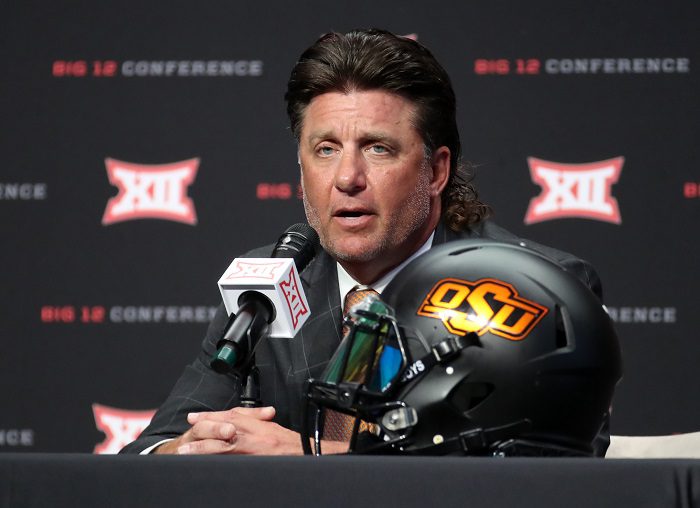 It's been a little while, but we are still coming to terms with the fact that the College Football Playoff will not be expanding any time soon. The fact of the matter is, not expanding is bad for the sport, both financially and for popularity's sake.
Fewer teams in the playoff mean fewer people following the biggest games of the year. The NCAA tournament is a perfect example of how things should be. Expanding the playoff field would captivate your target audience by including nearly every team that has a viable right to play for a national championship. That is the post-season that college football deserves.
Now, we will wait for another four years to see expansion, but Oklahoma State head coach Mike Gundy thinks that it will happen, eventually, but maybe not the way we all expect it to.
Heather Dinich of ESPN asked Gundy about his thoughts on no expansion for now.
"I think it's eventually going to go to eight," Gundy said. "I don't think it's going to go to 12 because the academic calendars are a conflict, the bowl games are a conflict, finals.
"There's so many conflicts that it's going to be difficult. So when they said they weren't ready to expand because they didn't know exactly what they were dealing with, I was ok with that.
"I think we have to be a little careful about all the sudden saying that we need to change when, … There's a huge revenue market for college football, and we have to be a little bit careful with the old phrase to try to fix something and it's not broke."
Gundy brings up a good point: It's better not to jump into something if you aren't sure exactly what you're dealing with. It's clear that the powers that be weren't ready to make things work and it cost college football nearly half a billion dollars.
Maybe 12 wasn't the answer and an eight-team playoff certainly does seem to have fewer obstacles. Gundy certainly thinks eight is more plausible and he may be right.
The long-time Cowboys head coach is certainly right about one thing: expansion will happen at some point. It will. Why? Because money talks.