Big 12 News
Notre Dame Blows Oklahoma Out of Women's NCAA Tournament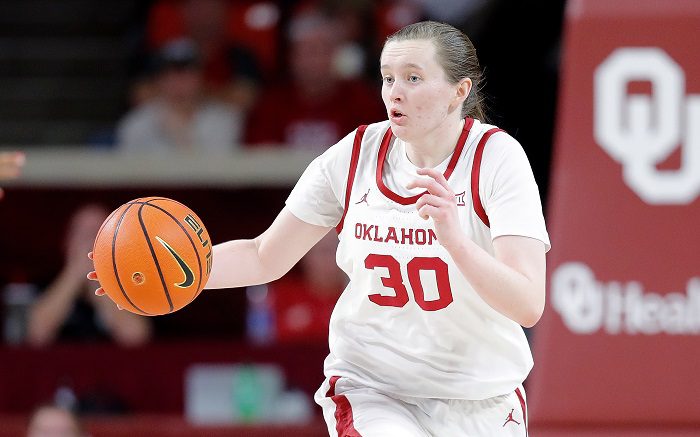 Notre Dame blew Oklahoma out of the NCAA Women's Tournament on Monday, as the Fighting Irish cruised to a 108-64 victory in the Bridgeport Region's second round.
The No. 5-seeded Fighting Irish (24-8) move on to the Sweet 16 where they'll play No. 1 seed North Carolina State in Bridgeport, Conn., on Saturday.
The No. 4-seeded Sooners (25-9) ended their turnaround season one step short of making the Sweet 16 for the first time since 2013.
Seeding-wise, it should have been an evenly-matched game. But the Irish took care of that quickly, as they rode an incredible first quarter to a 35-12 lead and never looked back.
Dara Mabrey led the way for the Irish, scoring 17 first-quarter points and draining five 3-pointers, part of six 3-pointers for Notre Dame in the first quarter.
Notre Dame started the game on a 16-7 run, with an 11-0 run wrapped inside that. Later, the Irish extended that run to 17-0 to take a 22-7 lead five minutes into the game. By the end of the quarter, the Irish not only had a 23-point lead but 12 points off seven Oklahoma turnovers.
It was a perfect storm kind of quarter for the Irish, and the Sooners didn't come close to recovering. Oklahoma, which averages 78 points per game, was down 60-25 at the half.
The Irish's performance was surgical. Four players hit double figures, led by Mabrey, who finished with 29 points and seven 3-pointers. She also had six rebounds and three assists. Sonia Citron had 25 points, six rebounds, three assists and was a perfect 11-of-11 from the free-throw line. Maya Dodson had 20 points while Maddy Westbeld added 13 points.
A heroic performance from Olivia Miles wasn't necessary for Notre Dame. But, two nights after recording a triple-double, she had nine points, seven rebounds and 12 assists.
Oklahoma's Taylor Robertson led the Sooners with 19 points, including three 3-pointers. Liz Scott and Skylar Vann each had 11 points. Madi Williams, the Sooners' leading scorer, had just nine points.
With the loss, only two Big 12 teams reached the Sweet 16 — Texas and Iowa State. Baylor and Kansas both lost on Sunday, while Kansas State also lost its second-round game on Monday.
You can find Matthew Postins on Twitter @PostinsPostcard.