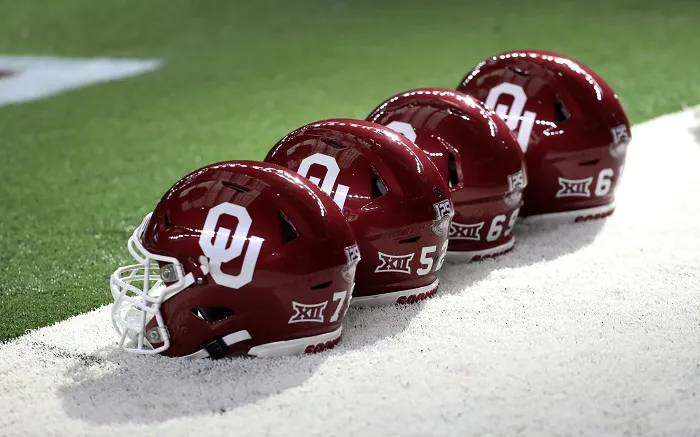 Spring practices and the final scrimmage are typically ho-hum for college football fans—no competition between other teams. However, Oklahoma's spring training begins on Tuesday and should be a spectacle concluding with the Red-White scrimmage on April 23 at 3 p.m. This year's final spring scrimmage should be a lot of fun for Sooner fans with the addition of transfer portal players and high school studs.
The most-ballyhooed transfer is the hiring of former assistant Brent Venables, who returns after a decade of success at Clemson. Venables has Sooner Nation jacked about next season as he looks to lead a more rugged program than his predecessor.
OFFENSE
QB Dillon Gabriel
When quarterback Caleb Williams entered the transfer portal last month, Dillon Gabriel flipped his commitment from UCLA to OU. Gabriel joins his former quarterback coach at Central Florida, Jeff Lebby, who had success as offensive coordinator at Ole Miss last year. Gabriel completed 61 percent of his passes for 8,041 yards and 70 TDs and 14 INTs in 26 games for UCF. At 309.3 yards per game, he would be behind only Landry Jones in OU career passing averages.
OL McCade Mettauer
McCade Mettauer comes to Norman from Cal. The 6-4, 304-pound product started at right guard 28 of 29 games last three seasons for the Golden Bears. With Chris Murray returning at right guard, Mettauer might get a look at the left guard spot vacated by Marquis Hayes and Erik Swenson's exhausted eligibility.
OL Tyler Guyton
Tyler Guyton, a 7-6, a 312-pound redshirt freshman at TCU a year ago, has played H-Back and offensive tackle for Horned Frogs. He will be a redshirt soph in 2022 and is likely to compete with senior Wanya Morris and redshirt freshman Savion Byrd for the starting right tackle position.
TEs Daniel Parker, Kaden Helms, and Jason Llewellyn
Tight End Daniel Parker Jr. logged 41 receptions for 337 yards and four touchdowns in 24 games for Missouri in 2021. Parker was utilized more as a blocker for the Tigers, only being targeted 18 times in 2021. He will provide valuable depth behind Brayden Willis.
Incoming freshmen Kaden Helms and Jason Llewellyn will make a push at TE but likely redshirt or see little action in the fall. Both four-star prospects hope spring camp will give them enough experience to make a push when fall camp arrives.
DEFENSE
DL Jonah La'ulu and Jeffrey Johnson
Jonah La'ulu and Jeffrey Johnson should get in the rotation on the defensive line this season. La'ulu, 6'6", 290, has played 24 games for the Hawaii Warriors and racked up 70 career tackles, 19 of which coming for loss, and eight sacks. Johnson, 6'3", 295, recorded 135 tackles with 15 behind the line of scrimmage, including 10 sacks the past four years at Tulane.
LB T.D. Roof
Linebacker T.D. Roof transferred to play for his father, Ted Roof, whom Venables hired as his defensive coordinator. The younger Roof, 5'11", 224, is a graduate transfer who has played his last two years at Appalachian State. He logged 67 tackles, 10 for loss, 3 sacks, and 2 INTs last year for the Mountaineers. Roof will challenge for one of the linebacker positions.
DB's Trey Morrison, C.J. Coldon, and Kani Walker
Cornerbacks Trey Morrison, C.J. Coldon, and Kani Walker might figure in the mix in the secondary. Current corners, Woodi Washington and D.J. Graham return and should be locks for their spots. The trio of newcomers could provide depth at CB or vie for the two safety positions vacated by Delarrin Turner-Yell's graduation and Pat Fields' transfer to Stanford. Nickelback is another possibility for the newcomers. Billy Bowman started seven games at NB last year.
Other returning Sooners in the secondary are Jaden Davis, Joshua Eaton, Jordan Mukes, and Bryson Washington. But Morrison (5'9", 190) is a veteran of 44 games the past four years at North Carolina. He's picked off 2 INTs, defended 13 passes, and forced a fumble for the Tar Heels. Morrison also has recorded 116 career tackles and 3 sacks.
Coldon (6'1", 180) has amassed 115 tackles, 2 INTs, 2 sacks, and 16 passes defended during his four-year stint at Wyoming. Walker (6'1", 175) played in only one game for Louisville a year ago. He was not highly rated out of Douglas County High School in Georgia, so he has his work cut out for him, but that's what spring ball is all about.
Incoming Freshmen to Keep an Eye On
The Sooners had the eighth-ranked class, according to Rivals, by loading up on 15 four-star high school players and six 3-star players. Ten of them have enrolled at the University of Oklahoma and will hit the gridiron this spring.
WR – Nicholas Anderson
RB – Javontae Barnes
QB -Nick Evers
WR – Jayden Gibson
TE – Kaden Helms
LB – Jaren Kanak
LB – Kip Lewis
TE – Jason Llewellyn
LB – Kobie McKinzie
DB – Robert Spears-Jennings