featured
Oklahoma State Spring Football 2022: Three Things to Watch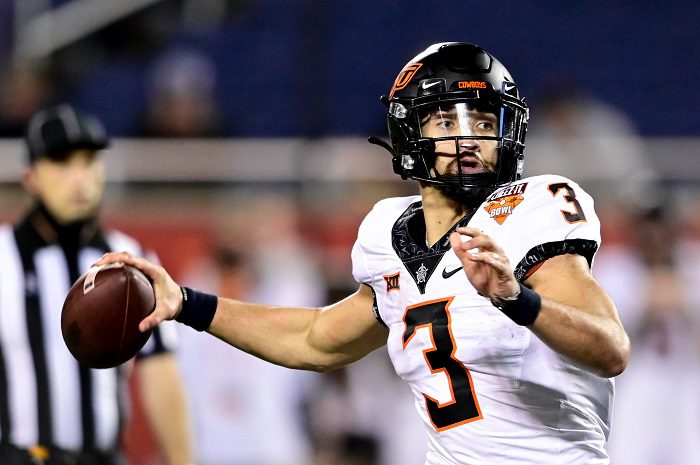 Mike Gundy and the Oklahoma State Cowboys are coming off of one of their best seasons in school history: amassing a 12-2 record and a Fiesta Bowl win over traditional power Notre Dame.
A Jim Knowles-led defense that was near the top in almost every statistical category led the Cowboys to the Big 12 Championship Game and nearly got them into the College Football Playoff.
Now, with Knowles in Columbus, Oklahoma State brought in Derek Mason, the former defensive coordinator at Auburn, and hope to recapture the magic that was the 2021 season. The Cowboys lose several key pieces, but return some as well, and should be a contender yet again in 2022.
With that in mind, here are three things you should be watching for when OSU kicks off spring practice on March 21st.
Which Spencer Sanders Will We Get in 2022?
The last two times that Spencer Sanders stepped onto a football field were comparable to Dr. Jekyll and Mr. Hyde. Against Baylor in the Big 12 Championship game, Sanders went 31-46 for 257 yards, no touchdowns, and four interceptions. It was his worst performance of the season, comparable only to his performance against Baylor during the regular season (13-23, 182 yds, 1 TD, 3 INTS). Then, as if he had metamorphosed back into Dr. Jekyll, Sanders put up 371 yards and four touchdowns through the air, adding 17 carries for 125 yards on the ground. The "Fiesta Bowl Sanders" is capable of leading the Cowboys back to the Big 12 Title game. The "Baylor Version" of Sanders is equally capable of costing Oklahoma State four or five games in 2022. Which version we will see is unclear at this point, but if he can show further progress in Casey Dunn's system this offseason it would help clear things up.
Who Will Replace the Stars on Defense?
Malcolm Rodriguez. Tre Sterling. Jarrick Bernard-Converse. Kolby Harvell-Peel. Christian Holmes. Tanner McCalister. Israel Antwine. These are impact players for Oklahoma State's 2021 squad that will need to be replaced heading into 2022. The Cowboys have depth upfront, but the secondary is somewhere that they have taken major attrition from last year. Gundy and his staff have always found a way to have solid play in the secondary and I trust that the assembly line will continue rolling in Stillwater in 2022. It may take some time but they will be playing solid football by Week 8 or 9. Perhaps the biggest void, even bigger than replacing Rodriguez or Harvel-Peel, will be replacing Jim Knowles on the sidelines. Derek Mason is no slouch, but if we compare last season's units it's a bit surprising. Knowles led OSU's defense to fifth overall in total defense, allowing just 297.9 yards per game; Mason's unit at Auburn was 61st overall, allowing 373.8 yards per game. Needless to say, it will be interesting to see what Mason can do in year one with the Cowboys.
Who is the RB1?
Jaylen Warren was a nice surprise for Oklahoma State in 2021 when he burst onto the scene against Boise State with 32 carries for 218 yards and two scores. He would go on a four-game streak going over 100 yards, including his performance agist Boise State and a 193-yard performance against Texas. In all Warren carried the ball 256 times for 1,216 yards and 11 scores, but he extinguished his eligibility and will not return in 2022. That means quarterback Spencer Sanders is the Cowboys returning rushing leader but the problem gets tougher: LD Brown and Dezmon Jackson are gone as well. They were supposed to be major pieces for OSU in 2022, but Brown left for the NFL and Jackson hit the transfer portal. Now, that leaves Dominic Richardson and Jaden Nixon to vie for the starting spot beside Sanders this year. Gundy seems to be confident in the tandem of young backs, but they are unproven. Someone needs to separate themselves this spring as the verified starter in the Cowboys' run-first offense.