Big 12 Previews
Oklahoma vs. Notre Dame NCAA Women's Basketball Preview and Prediction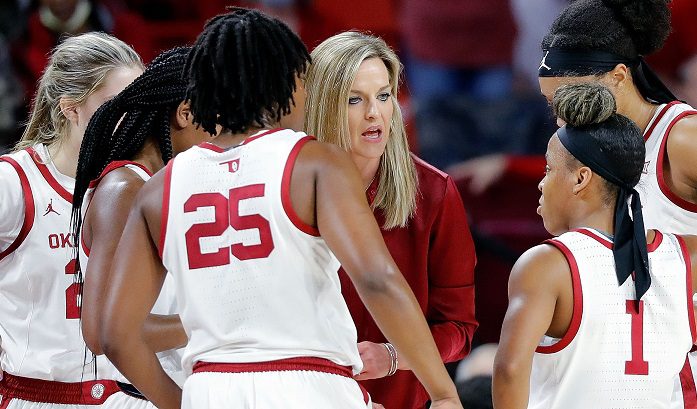 Here is everything you need to know about the Oklahoma Sooners and the Notre Dame Fighting Irish in our Oklahoma vs. Notre Dame NCAA Women's Tournament preview.
NCAA Tournament
Bridgeport Region – Second Round
No. 4 Oklahoma (25-8) vs. No. 5 Notre Dame (23-8), 5 p.m. CT, Monday, ESPN2, Lloyd Noble Center, Norman, Oklahoma
How They Got Here: Oklahoma received an at-large bid out of the Big 12. Notre Dame received an at-large bid out of the ACC.
NCAA Tournament Results: Oklahoma: def. IUPUI, 78-72 (first round); Notre Dame: def. UMass, 89-78 (first round).
Winner Gets: A trip to the Sweet 16 next week in Bridgeport, Conn.
Projected starting lineups
Oklahoma: G Taylor Robertson, F Madi Williams, G Nevaeh Tot, G Kennady Tucker, F Liz Scott.
Notre Dame: G Olivia Miles, F Maddy Westbeld, F Maya Dodson, G Sonia Citron, G Dara Mabrey.
Players to watch
Oklahoma F Madi Williams: There was no way Williams was going to let the Sooners lose their first-round game, despite IUPUI's strong effort on Saturday. She exceeded her season average with 21 points on 9-of-14 shooting, along with six rebounds. She just reinforced what we already knew about the Big 12 First-Team pick, the All-Big 12 Tournament Team pick and the finalist for the Cheryl Miller Award for the nation's best small forward. She's capable of having a big game, and she's had plenty of them as of late.
Notre Dame G Olivia Miles: Well, if you saw the UMass game, you know why Miles is the focus here. She recorded the 18th triple-double ever in the women's NCAA Tournament — 12 points, 11 rebounds and 11 assists. It was also the second time an Irish player accomplished the feat in the NCAAs (Skylar Diggins-Smith did it against Maryland back in 2012). Miles also became the third Irish player to record multiple triple-doubles and the second to do it in the same season. This isn't a one-game trick, either. She's Notre Dame's leading scorer with 13.6 points and adds 5.6 rebounds per game. She leads the Irish with 226 assists this season. It's safe to say the Irish's fortunes flow through her fingertips.
Key storylines
Oklahoma: The Sooners won their first game after a three-year absence from the NCAA Tournament on Saturday, turning their late start time into a pajama party. Williams had a great game, but so did guard Taylor Robertson, who scored 22 points, hit four 3-pointers and went 8-of-9 from the free-throw line. She and Williams came up clutch in a game the Sooners controlled but couldn't run away with. With Vann helping off the bench and Tot adding 10 points, the Sooners had four players in double figures. Now the real fun starts. The Sooners haven't been to the Sweet 16 in a long time, and if first-year coach Jennie Baranczyk could pull that off, well, perhaps a raise is in order? She has most certainly restored the pride of one of women's college basketball's standout programs.
Notre Dame: The Irish went through some transition with the retirement of Muffet McGraw entering the 2020-21 season. In fact, Notre Dame missed the 2021 NCAA Tournament, which snapped the program's 24-season streak in the 'Big Dance.' Notre Dame's absence didn't last long. Head coach Niele Ivey, who played for McGraw got the Irish back to the tournament with a turnaround reminiscent of the one at Kansas. The Irish have won 13 more games than a year ago. Miles is the obvious player to watch, but the Irish have other stars. Guard Sonia Citron was the ACC Rookie of the Year. Maya Dodson has scored in double-digits in 14 of her last 17 games entering the tournament. Notre Dame isn't going anywhere, either. Citron and Miles are freshmen.
Fun Fact
Notre Dame is 5-3 all-time as a No. 5 seed.
Prediction
Oklahoma 78, Notre Dame 77. This will be one of the closest games of Monday. Sooners win it with a late Williams basket.
You can find Matthew Postins on Twitter @PostinsPostcard.