Big 12 News
Big 12 Softball Players of the Week: Elam, Parker, Bahl, and Elish Split Honors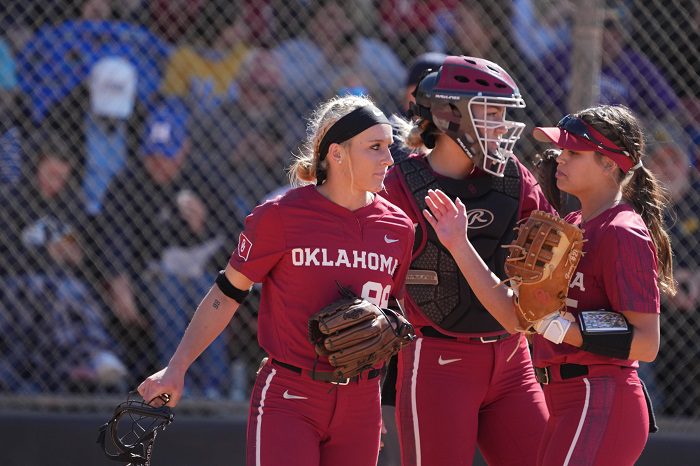 For the first time this season, we have both co-players and co-pitchers of the week in Big 12 softball after many impressive performances over the weekend.
OU continued its dominance in these accolades, as nine of 17 selections this season have worn Crimson and Cream. This week they are joined by a player from each of the Sooners' main rivals, Oklahoma State and Texas.
The three teams that had a player selected for this week's honors went a combined 12-0 over the weekend and relied on the honorees to secure important wins heading into conference play.
The Big 12 Softball Player(s) and Pitcher(s) of the Week are:
Co-Players of the Week
Oklahoma Catcher Lynnsie Elam
Oklahoma played five games over the weekend in the Hall of Fame Classic, and Elam hit four home runs during that span, with three of them coming in a 20-0 victory over the Iowa Hawkeyes on Sunday. The senior had five extra-base hits, 12 RBI, and a 2.000 slugging percentage while at the plate, and held a perfect fielding percentage behind it over five games. Elam has emerged as one of the most dangerous hitters in a "Murderer's Row" lineup for the Sooners.
Texas Infielder McKenzie Parker
The Texas Longhorns looked as good as they have all season last week, securing five wins over ranked opponents (two wins over No. 23 Louisiana, three wins over No. 18 LSU) and Parker was a big reason for their success. Parker registered a hit in all five games, batting .500 with eight RBi, including three multi-RBI outings. She had an impressive 1.458 OPS (on-base plus slugging). No doubt her biggest hit of the week came on Sunday against LSU when she ripped a 3-2 pitch into left field for a walk-off, two-RBI double that secured a comeback win for the Longhorns. Texas was down 10-4 in the sixth and won the game 11-10 thanks to a seven-run seventh.
Co-Pitchers of the Week
Oklahoma RHP Jordy Bahl
Jordy Bahl continues to look like anything but a freshman as she dominated in the circle yet again for the Sooners. Bahl threw her second individual no-hitter of the season on Sunday against Iowa, striking out eight batters and allowing just two walks. Over the weekend, Bahl recorded 18 K's and an ERA of 0.81, allowing just one run on three hits. This is Bahl's third time as Pitcher of the Week in an Oklahoma uniform.
Oklahoma State RHP Miranda Elish
Elish recorded her second no-hitter of the season as her Cowgirls beat Wichita State in five innings on Friday. Elish has now thrown back-to-back no-hitters in her last two starts, making it five for her career. This is the sixth time that Elish has been named a Big 12 Player of the Week: four times with Texas and now twice with Oklahoma State. Elish and OSU are now 21-6 and 6-4 with Elish starting in the circle.