Big 12 News
T.J. Otzelberger's Vision Was Clear: Buy In, Work, Win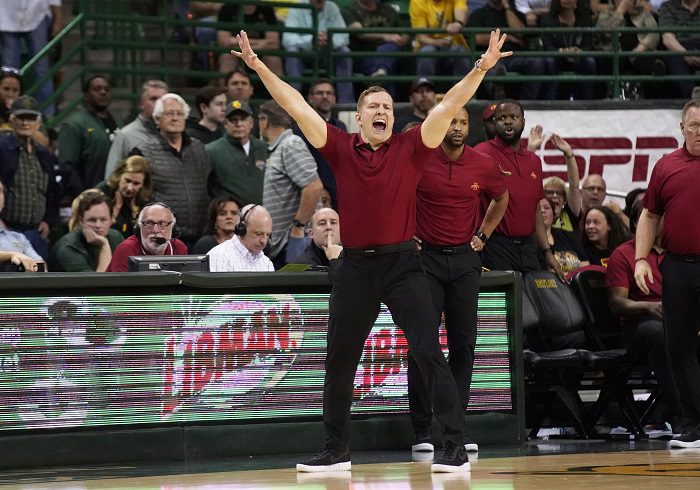 Iowa State won two games in 2020-21, going 0-18 in the Big 12 and 2-22 overall. They have now matched that win total in the NCAA Tournament alone this season and look like a strong candidate to make an Elite Eight appearance in head coach T.J. Otzelberger's first season.
Iowa State isn't winning games like everyone else in the country, but Otzelberger doesn't care about that.
"We're not going to apologize for how we have to win," Otzelberger said. "We're not going to apologize for aesthetically how it may look."
Their 54-49 win over three-seed Wisconsin may not have been as flashy as, say, Duke's 85 point barrage against Michigan State, but both teams are now in the Sweet 16 and that's all that matters. Plus, the state of the Iowa State program has come a long, long, way in one calendar year; much further than anyone expected if we are being honest.
But, how did Otzelberger get his guys to buy into the grind, the defense, and the mentality of winning with work?
"We evaluated guys in the transfer portal and guys that would return and those we wanted to bring in," Otzelberger said. "We wanted to make sure they knew what we were going to be about, they knew what they were signing up for, they knew what our identity would be. We believe that if you play hard defensively and you dictate that, you can control the game."
"So again, I go back to these guys being very low ego, high producing guys, they're great teammates. So that's important that you bring in the right type of guys so they know what they're signing up for and they take pride in it. I think our guys understand how we do things."
It's safe to say that his vision has worked, as the Cyclones are a win over 11-seed Miami away from an Elite Eight appearance, something that hasn't happened in Ames since 2000.
"They're winners, I'm proud of them," Otzelberger said of his team. "We're just going to keep being who we can be."