featured
Texas Tech Spring Football 2022: Three Things to Watch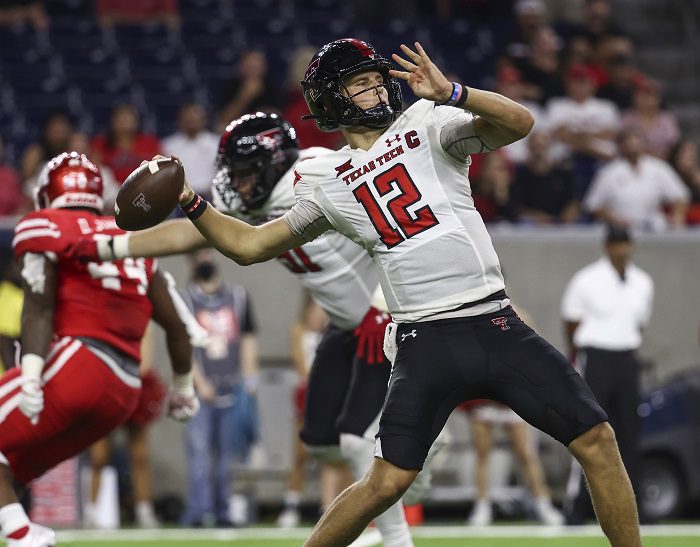 Texas Tech finished its 2021 football season with an exclamation point after a 34-7 win over former head coach Mike Leach and the Mississippi State Bulldogs.
Now, two months later, the Red Raiders have quite a bit to look forward to in 2022. Recently, the Red Raiders recruiting prowess in the 2023 class has made them a focal point of talk shows and sports articles. Head coach Joey McGuire has TTU ranked second nationally in 2023's recruiting rankings with a class chock-full of West Texas talent.
Now, as other schools fill up their rosters, TTU will likely come down a bit from that ranking, but the point still stands: Joey McGuire is changing how people view Texas Tech Football.
He will try and build on that foundation as spring football kicks off on March 22 and ends with a spring game on April 23. Here are three things that you should be watching for as the Red Raiders get things going.
Who is QB1 in 2022: Tyler Shough or Donovan Smith?
Most of the time, having a quarterback controversy going into spring is seen as a bad thing. Having a starter going into practice gives the team someone to center around and look to as a leader. Well, right now it looks like the Red Raiders have two guys that have legitimate claims at the starting quarterback job: Oregon-transfer Tyler Shough and the starter for the final four games of 2021, Donovan Smith. Who will win the job for 2022? My gut says Tyler Shough, but I can't say that with much confidence. Shough is a veteran who has exhibited the arm talent and accuracy to excel in Zach Kittley's scheme (More on him in a bit). On the other hand, Smith's ability to make plays outside the pocket and scramble out of trouble gives the Red Raiders another layer offensively that they wouldn't have otherwise. Either way, I think Tech is in a good place at quarterback in 2022.
Can Zach Kittley Replicate His Success at Western Kentucky?
There was only one offense more potent than Western Kentucky's last year, and that belonged to the Ohio State Buckeyes. WKU averaged 535.3 yards per game in 2021 and was the top passing offense in the country last year, totaling 63 touchdowns through the air. What school has been synonymous with Air Raid offenses in the past? Texas Tech. Who will be implementing an Air Raid attack yet again in 2022? Texas Tech. Kittley's scheme worked wonders at WKU, but can he use the offense to spread out Big 12 defenses that proved to be as resilient as any in the country last year? That has yet to be determined, but the install will start this month. If one of the quarterbacks listed above can take the offense and run with it, Texas Tech will be a dangerous offense next year.
Is the Joey McGuire Hype Real?
Okay, we all know that McGuire can recruit, that much has been proven. The question is, can he run a "Power Five" program on the sidelines on Saturday? He has mounds of experience at the high school level, but we are talking about a whole different animal when it comes to being a head coach in the Big 12. I believe that he can be successful and my belief stems from the staff that he has assembled. His coordinators, Kittley, who we spoke about earlier, and Tim DeRuyter (Oregon DC in 2021), are as impressive a duo of coordinators as Tech has seen in years. If he can manage this staff and roster properly, McGuire could be the guy to get Tech back to the prominence it saw under Mike Leach in the 2000s.